Posted on
Tue, Jan 10, 2012 : 5:57 a.m.
University of Michigan provost says large salary increases for deans were warranted
By Kellie Woodhouse
University of Michigan Provost Philip Hanlon defended dean raises before faculty members Monday afternoon, saying that deans earned rates necessary to keep university salaries competitive with those offered at other top-tier institutions.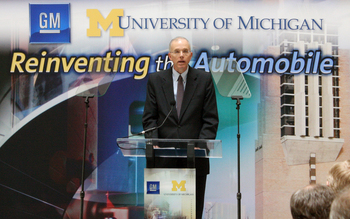 Photo courtesy of U-M.
U-M's 21 deans are earning more than $6.92 million in base pay this year, according to
university figures released last month
. That's up from $6.57 million last year.
Merit raises for deans averaged 3 percent, Hanlon said; however four deans positions received increases well over that amount.
Two dean positions received six-figure increases.
Alison Davis-Blake, the new dean of the Stephen M. Ross School of Business, receives a $550,000 salary, or $102,000 more than her predecessor Robert Dolan. College of Engineering Dean David Munson's salary saw a near-29 percent increase this year. His salary is $470,195, up from $365,164 last year.
Hanlon, who is in charge of setting and raising deans' salaries, said the increases were merited for two separate reasons.
When Davis-Blake was hired, Hanlon said he reviewed the salaries of comparative schools, including the top five business programs at public universities before setting Davis-Blake's rate.
"When we hire a new dean we do a market survey of deans in peer insitutions and that's probably the biggest single piece of data that I use in setting the salary initially," Hanlon said during a Monday afternoon meeting before the Faculty Senate Advisory Committee on University Affairs.
Hanlon said the university raised Munson's salary substantially in order to persuade him to remain at U-M.
"A dean ... was contemplating a provost position at a peer institution and we wanted to retain that dean," said Hanlon, who did not mention Munson by name. Munson, who received a $105,000 salary increase, is the only dean to have received a salary hike large enough to qualify.
Two other deans received 10 percent increases in addition to their merit increases. Those increases, Hanlon said, are due to a long-standing university practice of awarding deans a 10 percent increase after five years in the position.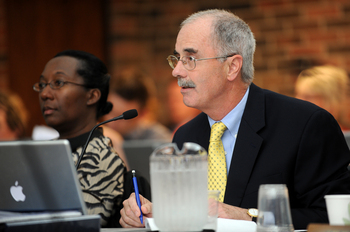 AnnArbor.com
For Paul Courant, the dean of libraries, that practice meant a 13.3 percent, or $47,000, raise. He now makes $398,102. School of Nursing Dean Kathleen M. Potempa received a 12.2 percent increase, which brought her earnings up $40,400 to $371,026.
"The historic practice is that if a dean is reappointed for a second term... they get a 10 percent increase in salary," Hanlon said.
If a dean is reappointed to a third term, they receive another ten percent hike. Deans are awarded five-year increases in addition to their yearly merit increases.
Hanlon said the practice imitates the same pay hike a faculty member would receive when promoted from assistant professor to associate professor or associate professor to professor after five years.
"It's like a promotion," Hanlon explained.
SACUA member and Otorhinolaryngology professor Charles Koopmann expressed concern with the 10 percent raise.
"It's not a promotion, it's a reappointment," he said. "They're getting potentially a significant amount more, percentage wise, than their faculty."
Hanlon said that deans, unlike some administrators and faculty, do not receive deferred compensation.
This year Robert Dolan, the former business school dean, continued to collect the $448,155 salary he received during his deanship.
Hanlon said that's because Dolan is using a year's worth of administrative leave, a type of leave similar to sabbatical, that he earned during his time as dean.
"Deans do accumulate, typically, a year of administrative leave," Hanlon said in an interview with AnnArbor.com.
Kellie Woodhouse covers higher education for AnnArbor.com. Reach her at kelliewoodhouse@annarbor.com or 734-623-4602 and follow her on twitter.