Posted on
Sun, May 23, 2010 : 5:30 a.m.
Sarah Juster ran with her passion
By James Dickson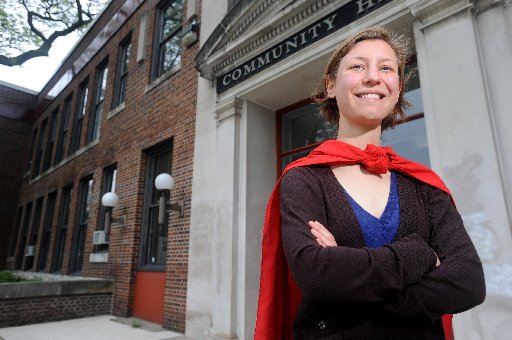 Angela J. Cesere | AnnArbor.com
Ann Arbor's Sarah Juster has one piece of advice for young students seeking success: Find your passion and run with it.
Juster found hers as a freshman at Community High School, when she took a class on African civilizations. A unit toward the end focused on the various conflicts in Africa, including the Darfur genocide in the Sudan.
"I had to learn more," Juster said, which she did by founding a local branch of STAND, a student anti-genocide coalition.
As a sophomore, Juster approached the Neutral Zone about hosting its meetings there. Ann Arbor's teen center agreed and by the end of that year STAND was sanctioned as an official Neutral Zone group - one that will continue after Juster leaves Ann Arbor for Yale University next year.
John Kenneth Weiss, executive director of the Neutral Zone, has watched Juster blossom in her time at the teen center. Weiss said that while Juster's accomplishments are impressive, he's more impressed with her humility and the maturity it represents.
"Sarah was always very driven - she came in like that - but she's also very understated and well-respected by her peers," Weiss said.
Juster believes that her passion for the anti-genocide cause paved the road to Yale, not because she chose the "right" thing to believe in, but because she is genuinely interested in what happens in Darfur and elsewhere.
Juster said she will probably join the Ethics, Politics and Economics program at Yale, with some African and international studies sprinkled in.
Sarah Juster
Age: 18
Parents: Deborah and Harvey Juster
School: Community High School (Ann Arbor)
School activities: Ann Arbor Pioneer rowing, alto-saxophone player in Community High School Jazz Band, Community High School Representative for Leadership Ann Arbor program
Community activities: National new chapter liaison for STAND, the student anti-genocide network; Teen Advisory Council, Board of Directors, Finance Committee at The Neutral Zone; intern at Washtenaw County Public Defender's Office
Nominated by: John Kenneth Weiss, executive director of the Neutral Zone
College plans: Attend Yale University in the fall
Favorite superhero: Spider-Man
Passion was one part of it, but Juster added that taking 10 courses at the University of Michigan while at Community High didn't hurt.
As a braces-wearing sophomore, Juster took her first U-M class on "Moral Choice" at the Residential College in East Quad. She was intimidated at first, but stuck it out. Then as a junior, rose-colored shades removed, Juster realized that she'd do just fine, academically, if she stayed ahead on her reading.
Juster encourages high school students in Ann Arbor to take classes at U-M whenever possible.
"Whatever you're into, you can take classes and learn more about it at Michigan," Juster said. "Everyone should do it."
Leaving Ann Arbor for Yale was a "rough decision," Juster said. "It was the students" that made the difference, Juster added. "Everyone at Yale is so driven, so engaged."
Juster has risen to the national leadership of STAND, and serves as the point of contact for high schoolers nationwide looking to start their own chapters.
She said she'll probably transition away from STAND this summer, to free herself up for new interests in college. Juster will head to New Haven, Conn., in late August.
"Nowadays I'm more interested in the deep root causes of conflict," Juster said. "I want to ask not only 'why is there conflict here?' but 'why are these countries so poor in the first place?'"
James Dickson can be reached at JamesDickson@AnnArbor.com.