Securing school buildings' exteriors takes on added importance after Sandy Hook shootings
Posted on Wed, Mar 13, 2013 : 5:59 a.m.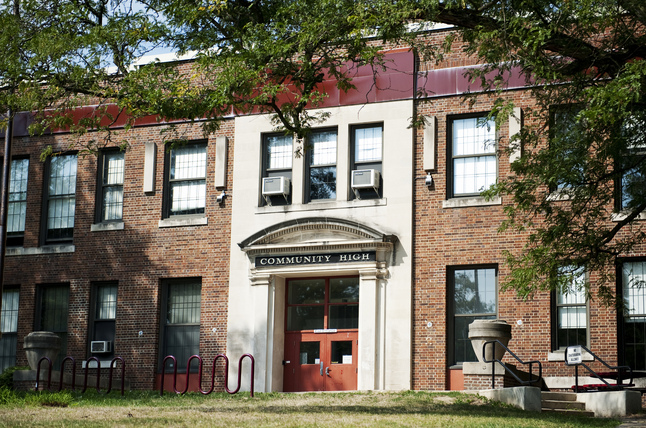 Daniel J. Brenner | AnnArbor.com file photo
Some students arriving for class at Ann Arbor's Community High School have found the exterior doors leading from Division Street locked in recent weeks.
The new policy, part of additional safety measures taken since the December shootings Sandy Hook Elementary School in Newtown, Conn., has caused some consternation for some. "They're used to being dropped off there and going to class, but they have to change their routine and walk around to where it's monitored," said Ann Arbor Public Schools spokeswoman Liz Margolis.
"Has it created some inconvenience? Probably. But, these policies are what we feel are best to meet our goals."
The Ann Arbor district, along with others in Washtenaw County, is reviewing its security procedures, including its policies regarding building exteriors, in the wake of the shootings that killed 20 students and six educators Dec. 14.
In Ann Arbor, administrators have put an emphasis on locking exterior doors. One day, that led to rumors of a possible lockdown at Pioneer High School. But Margolis said the district was just enforcing an already existing policy.
She said officials are now fine-tuning their security policies at the rest of the district's school buildings, including locking many more doors than before.
"We're assessing what it would take and what it would mean to lock all of our doors," Margolis said. "What kind of access would we use, a buzzer, a keypad? What would the costs be? We are in the stages of assessing that."
AnnArbor.com spoke to local districts about their building security policies as part of MLive Media Group's series on school safety.
Some districts, such as Ypsilanti Public Schools, have explicit board policies for how the exteriors of school buildings should be protected. Others, like Ann Arbor, have more general policies leaving the protection of schools to building supervisors who have to maintain their building's safety inline with district procedures.
In AAPS, that can mean some new constraints that might irk some students, like the recent policy change at Community.
Margolis said the school is locking all doors save for the ones that lead in from the parking lot. The Division Street doors are now locked at all times. "Students have been instructed not to open that door for anybody," Margolis said.
Other school districts have given their superintendents the ability to take more extreme measures than just making sure buildings are locked down.
At Ypsilanti Public Schools, policies established by the school board before the Sandy Hook shootings allow the superintendent to install metal detectors and video surveillance systems at schools. The superintendent is required by the board to give an annual update regarding surveillance and security programs in the district.
Sharon Irvine, executive director of human resources at Ypsilanti schools, said the school buildings have security cameras on the outside of their buildings but do not have the metal detectors allowed in the board policies. She said the security cameras are used often to review incidents.
"We have used them many times in part of making sure individuals know these surveillance pieces are operational," she said.
Ypsilanti schools require all doors to be locked and visitors to use a buzzer in order to enter the building. Lincoln Consolidated Schools has a similar policy.
Lincoln superintendent Ellen Bonter said the safety of the outside of district buildings has always been a priority for her, dating back to her time as a principal. At one school in another district two members of the Secret Service were visiting her school and were not able to gain entry to the building because even the students refused to let the men in.
"They complimented me on the fact they had been to every door except the one they needed to go to and not even the children would let them in," she said, laughing.
Teaching children who should and shouldn't be in a building is important. District employees wear identification badges in Lincoln, which allow students to know who they are. In addition, the badges allow staff to be buzzed into some of the doors with electronic locks, she said.
Bonter said locking doors and teaching students not to open them is a good policy, even if it isn't foolproof.
"It's not going to stop someone with a gun, but it monitors who is coming and going," she said.