Posted on
Mon, Mar 11, 2013 : 10:10 a.m.
Skyline High's Sulura Jackson accepts principal position in North Carolina
By Danielle Arndt
Editor's note: This story has been updated with Sulura Jackson's current salary and comments from a district spokeswoman.
Skyline High School Principal Sulura Jackson has accepted a job with Chapel Hill High School in North Carolina, according to a report in The Herald Sun.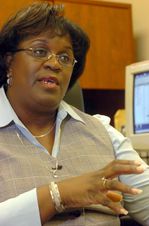 Ann Arbor Public Schools
Communications Director
Liz Margolis
confirmed the news around 11 a.m. Monday after Jackson submitted her notice of resignation.
This is the second administrator AAPS has lost to a North Carolina school in the past month. Deputy Superintendent for Operations Robert Allen resigned in mid-February to take a position as vice chancellor of the North Carolina School of Science and Mathematics, now led by former Ann Arbor Superintendent Todd Roberts.
Jackson was the founding principal of Skyline High School. She has worked for the district for seven years and helped school officials design the structure and curriculum of the new high school and plan for its opening in 2008.
"Ms. Jackson was hired by Dr. George Fornero, the superintendent of AAPS at the time, to lead innovative curriculum development for Skyline High School," Margolis said. "This includes the magnet program and the smaller learning communities at Skyline. Ms. Jackson worked hard to open Skyline, hire staff and create a new curriculum model for students.
"Through her leadership she has established Skyline High School as a highly regarded secondary school serving students needs through mastery learning and creating important staff to student connections. We wish Ms. Jackson all the best as she pursues her next educational adventure."
During her tenure with Skyline, the Jackson was named the 2010-11 High School Principal of the Year by the Michigan Association of Secondary School Principals.
Jackson's current salary at AAPS is $127,840.
Jackson will start at Chapel Hill High School on July 8, according to The Herald Sun.
Chapel Hill High is part of the Chapel Hill-Carrboro City School District and has an enrollment of about 1,300 students. Skyline High School's enrollment for the current school year was 1,501 as of the fall student count day.
Danielle Arndt covers K-12 education for AnnArbor.com. Follow her on Twitter @DanielleArndt or email her at daniellearndt@annarbor.com.