Posted on
Tue, Jun 12, 2012 : 5:58 a.m.
Skyline senior with cerebral palsy achieves 3-year goal: To walk across graduation stage
By Danielle Arndt
It was a moment for which Jasper Lindsay had spent three years preparing.
The moment itself lasted perhaps just 20 seconds. But the impact of the moment touched lives in a much deeper way.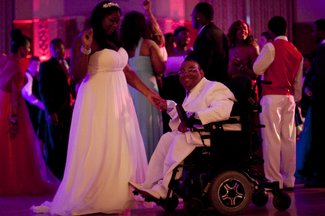 Jeffrey Smith I AnnArbor.com
While the 365 other
Skyline High School
seniors seated in the arena at
Eastern Michigan University
's Convocation Center Monday likely were thinking about college, celebrating later with family and friends or the two beach balls their classmates had managed to sneak into the ceremony; Lindsay was thinking about just one thing — walking across that stage to accept his diploma.
So when Lindsay, with the help of his closest teachers, lifted his crippled body from his wheelchair and reached for a walker, the arena erupted into applause, deafening cheers, ear-piercing whistles and a standing ovation.
Walking for graduation was the Skyline senior's No. 1 goal for his high school career.
Lindsay, who has cerebral palsy, trained three days a week since his sophomore year to achieve his goal, practicing walking with a walker every day, said Skyline paraprofessional Treavor Rowton.
Rowton said they started slowly, with Lindsay walking only as far as he was mentally and physically able to. The duo gradually worked up to walking 115 feet.
Lindsay wasn't nervous or scared for graduation, he said Monday after crossing the stage. He was simply excited.
"It felt good," he said of hearing all of the support from the crowd.
Now, he added, he wants to learn to walk more with a walker.
"I asked him earlier today if he was ready and he just said, 'I've been ready'," said Skyline physical education teacher Jennifer Garcia.
Lindsay and his teachers arrived at the Convocation Center at 8 a.m. Monday to practice and finalize the logistics for helping Lindsay maneuver his wheelchair up to the stage, they said.
"It was a tear-jerker," Garcia said, describing the moment her pupil received his well-earned diploma.
"He is a very special student… He has a lot of determination and perseverance. It's been unbelievable to work with him and to watch his progress."
Firsts and achievements were themes of Monday's commencement ceremony, which marked Skyline High School's inaugural graduating class.
Skyline's first senior to attend Harvard University and first president of its Integrity Learning Community, Priyanka Menon, addressed her classmates, reflecting on what she dubbed a "momentous" four years of firsts and, ultimately, lasts.
"Our journey began with a single choice," Menon said. "A choice to attend Skyline High School ... where we became Pioneers and lab Rats in our own right … navigating the empty white hallways ... as unsure as our teachers of how mastery retakes actually worked."
But as the class of 2012's long-awaited senior year began, the class that had become so accustom to experiencing firsts, experienced a series of lasts — "the last time we wore a Skyline jersey… the last final exam."
"Just when we thought we were past the unknowns, we stare out at the unknown that is the rest of our lives," Menon said. "…But our experiences at Skyline taught us that new is not frightening."
She said Skyline's graduates must remember to follow their "agile minds" and "big hearts," per the school's motto, wherever they may lead.
Former Ann Arbor Public Schools Superintendent Todd Roberts shared the stage with current Superintendent Patricia Green Monday.
Roberts, who Skyline Principal Sulura Jackson said was key in the school's startup, gave the commencement address, traveling from North Carolina where he now works.
Roberts called the opportunity to speak an honor and talked about the importance of asking deep, probing questions. He quoted the saying: "Millions of people watched apples fall, but only Newton bothered to ask how and why."
Jackson said the administration had high expectations for the inaugural Skyline students, adding she is proud of all they accomplished: 10 National Merit Scholarship finalists, 56 percent of the class graduating with academic honors, 11 athletes named to all-state teams, choirs that performed at the Vatican in Rome and the creation of 50 school clubs and organizations.
"You have set the standard of excellence high," she said.
Staff reporter Danielle Arndt covers K-12 education for AnnArbor.com. Follow her on Twitter @DanielleArndt or email her at daniellearndt@annarbor.com.