Posted on
Thu, Jan 31, 2013 : 11:16 a.m.
Taxi collides with school bus; slick roads delay students' arrival
By Danielle Arndt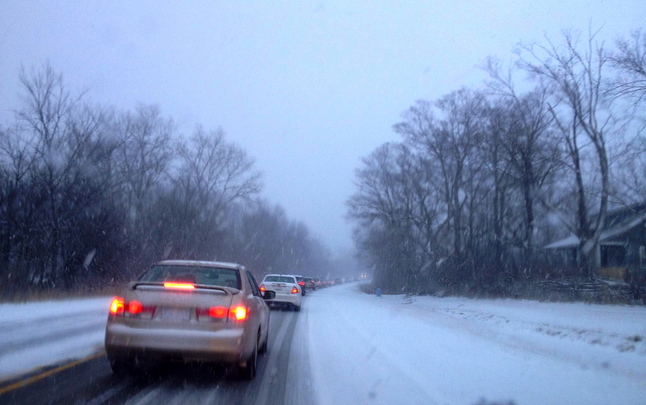 John Counts | AnnArbor.com
Related stories:
Slick roads and crashes throughout Washtenaw County Thursday morning delayed students' arrival to school.
A bus carrying special needs students to Eberwhite Elementary School was involved in a minor collision with a Blue Cab taxi on the west side of Ann Arbor.
The collision was described as a "fender bender" and took place in the Adrienne Drive subdivision near the corner of West Liberty Street and South Maple Road.
There were no injuries. Ann Arbor Public Schools and Blue Cab representatives said the cab slid into the school bus at approximately 5 mph and minimal damage occurred to the car.
District Communications Director Liz Margolis said the students all have been delivered to school and parents of students on the bus are being contacted, according to the district's normal practice.
Washtenaw Intermediate School District transportation officials said a number of buses got stuck behind cars that couldn't make it up various hills Thursday morning on their routes, but there were no major incidents involving buses.
Newport Road near Forsythe Middle School was blocked by traffic this morning that delayed buses, Margolis said.
"The roads, especially on the west side of the city, did get icy with no salt down on them," she said.
Most middle school students arrived on time, except for those living in the Forsythe area. There were delays on the west-side roads for both buses and parents driving students to school; and a few elementary buses were delayed up to an hour, Margolis said.
"The east side of the city was in a bit better shape," she said. "Eisenhower was slower but not as icy as the west-side roads."
The squall blew in after the high school service had started, Margolis said, which was too late for district officials to close school.
Ann Arbor Public Schools staff and transportation officials were out assessing the roadway conditions this morning.
"It was slow and icy but we already had students at school and waiting for the bus so there was not a decision to close," Margolis said.
Danielle Arndt covers K-12 education for AnnArbor.com. Follow her on Twitter @DanielleArndt or email her at daniellearndt@annarbor.com.