Posted on
Thu, Feb 21, 2013 : 2:59 p.m.
Spokeswoman dispels rumors that Ann Arbor superintendent works 4-day week
By Danielle Arndt
Editor's note: Comments from school board President Deb Mexicotte have been added to this story.
Ann Arbor Superintendent Patricia Green works a five-day week and owns a home in the district, though she does fly to Maryland on some weekends, a school district spokeswoman said Thursday.
Communications Director Liz Margolis made the statement Thursday in response to rumors around the district and comments on AnnArbor.com articles that the superintendent only works four days per week.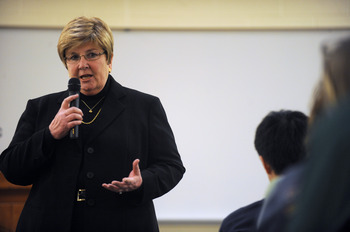 School board members say they've heard rumors that Green does not own a home in the district and only works a four-day week spread among
Ann Arbor Public Schools
families with whom they interact. Commenters on AnnArbor.com
school stories
also have raised questions for months about whether the superintendent works a full week.
Margolis said Green does go back to Maryland, where her husband lives, on some weekends. She said Green's husband owns an orthodontics and periodontics practice in Maryland.
"She has done this for many years, commuting back and forth to Maryland," Margolis said of Green. "She did this all while she lived in Pennsylvania. … It works for them (Green and her husband). And it's not every weekend. She periodically flies back and (her husband) periodically flies here."
Green did not respond to requests for an interview for this article.
Trustee Simone Lightfoot said it concerns her that people think this and while she has not addressed the superintendent about it personally, she does wonder why this is the public's perception. Lightfoot said when she hears complaints or has questions posed to her about Green, she jots them down on a list of items to bring up during the annual superintendent evaluation.
"I like to keep a list to be fair and to be able to document the things that I hear. … I believe in transparency. And if a concern is raised, there should be an official response to it," Lightfoot said.
School board Vice President Christine Stead said it's discouraging that rumors about Green's work ethic and residency have become talking points for the community.
"She is one of hardest-working superintendents I know," Stead said. "So it couldn't be further from the truth — these accusations about her work ethic."
She said in her experience with the superintendent, Green often will leave a school board meeting at 1:30 a.m., respond to an email at 4 a.m. and be in the office by 7 a.m. Stead said Green also has been known to write reports while on vacation and to be available via phone or email then as well. She's also worked with Green on projects on Friday nights and on weekends, Stead said.
Board President Deb Mexicotte said it's "demoralizing" for everyone in the district to have to discuss these types of issues. She added board members and school officials only have so much time, energy and capacity to give and their efforts need to be focused on the right things, like personnel hiring, student achievement and addressing the approximately $18 million budget shortfall.
"Rome burns while we're squelching anonymous, mean-spirited rumors," Mexicotte said. "We (the board) are her bosses. If we thought she was skipping out once a week ... it'd be our jobs to correct this. But we're satisfied with her performance and say so on a regular basis. … As a community … we need to refocus on what's important."
When asked why it might be the public's perception that Green is unresponsive and not in the office five days a week, Stead said possibly because of Green's management style.
She said Green believes in enabling and empowering leaders at the closest level of accountability to take control of their departments. Green also believes in having an effective chain of command for resolving issues and accomplishing tasks, which often can require more people to be involved, Stead said.
"False information doesn't serve anyone, as none of us are making decisions in a fully informed manner," Stead said. "Being able to validate information and correct any misinformation is an important service for an informed and engaged community. Technology has changed how we communicate with each other so that information can be relayed as personal accounts and in real-time, which can be great. Validating information becomes even more important in this kind of environment."
Danielle Arndt covers K-12 education for AnnArbor.com. Follow her on Twitter @DanielleArndt or email her at daniellearndt@annarbor.com.