Posted on
Tue, Aug 27, 2013 : 9:50 a.m.
Superintendent Jeanice Kerr Swift's first words to the Ann Arbor community
By Amy Biolchini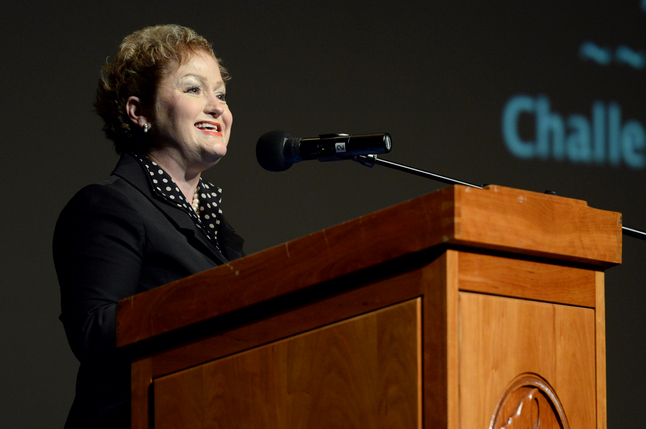 Melanie Maxwell | AnnArbor.com
Ann Arbor Public Schools
welcomed back its teachers Tuesday morning with an annual celebration—and was enthusiastic in greeting a new face to the district:
Superintendent
Jeanice Kerr Swift.
Tuesday marks the first day of Swift's five-year contract.
Held 8:30 a.m. at Pioneer High School, the celebration began with a high-energy entrance from the Skyline High School drum line in to an auditorium filled with AAPS teachers.
Board of Education President Deb Mexicotte welcomed back teachers and thanked the administration for making the "very ambitious timeline" to find a new superintendent for the district a success. Interim Superintendent David Comsa led the district for 65 days this summer during the process.
"On behalf of the Board of Education, I'd like to thank you (teachers), our district staff, for all your hard work and dedication as you prepare ... for the graduating classes of 2014 through 2026," Mexicotte said.
Mexicotte briefly described Swift's resume, including her 25 years of experience as a classroom teacher, teacher coach and district administrator, before giving Swift the floor.
"I am delighted and deeply honored to greet you today as your superintendent. Today is certainly not about me, today is about you: Our incredible, exceptional Ann Arbor Public Schools staff," Swift said to the room full of teachers.
After complimenting the positive energy in the Pioneer High School auditorium Tuesday morning, Swift publicly recognized AAPS administrative staff and union leaders by name.
Swift promised to visit every school in the district for both a staff gathering and a community forum—a statement that garnered significant applause from the audience.
"I've been to Ann Arbor back and forth this summer: it doesn't take long to understand that AAPS represent a strong tradition of quality, of excellence, of exceptional," Swift said.
The "Exceptional: A+" district motto was one Swift wove throughout her remarks. Swift gave a brief list of highlights of student achievements in academics, career, technology, athletics, the arts and community support.
"We field more sports than the University of Michigan," Swift said as a friendly jab to U-M, noting AAPS fields 33 and U-M fields 29.
Swift briefly confronted the challenges AAPS faces in terms of the achievement gap. She charged teachers to "roll up their sleeves" to tackle graduation rates below the 80 percent accountability requirement among African American, Hispanic and economically disadvantaged students.
"We must be courageous and confront and embrace the challenges that lie ahead of us," Swift said. "We will meet our challenges, particularly in the areas of student discipline where we have seen progress."
Swift also promised longevity in her term with the district.
"This year's kindergarten students that we will welcome one week from today will be the graduating class of 2026," Swift said. "I plan to shake their hand and hand them a diploma."
Following her approximately 12 minutes of remarks, Swift turned the stage over to three teachers and a district administrator to share some of their inspirational experiences in speeches similar to TED Talks.
Later today Swift will attend staff professional development sessions and interview the final candidates for the Lawton Elementary School principal's position.
Swift's next full day in the district is Tuesday, Sept. 3, on the first day of school.
Amy Biolchini is the K-12 education reporter for AnnArbor.com. Reach her at (734) 623-2552, amybiolchini@annarbor.com or on Twitter.