Posted on
Thu, Mar 28, 2013 : 5:59 a.m.
Teacher firing upheld: Former Huron orchestra teacher Chris Mark's appeal denied
By Danielle Arndt
Angela J. Cesere | AnnArbor.com file photo
Previous coverage:
A former Huron High School orchestra teacher, who contested his firing from the Ann Arbor Public Schools, was denied an appeal earlier this month, concluding the tenure case against him.
Christopher Mark was accused of engaging in an inappropriate relationship with a student that included "grooming her" for a future romantic relationship and an "abuse of trust."
Court documents have revealed new details about the case and the teacher's relationship with the student, including Mark possibly buying the under-aged student a drink at a bar. They also show the district may have known about the allegations of impropriety against Mark in 2006, four years before pursuing tenure charges, but failed to investigate them properly.
The Ann Arbor Board of Education voted unanimously to pursue tenure charges against Mark in December 2010.
Mark was on paid leave from AAPS from July 26, 2010, through May 31, 2012, when the State Teacher Tenure Commission upheld a ruling by an administrative law judge with the Michigan Department of Education, granting the district's request to discharge him.
In Michigan, an administrative law judge serves as the initial decision-maker and he or she issues a preliminary order on all teacher tenure cases. It is the judge's responsibility to determine whether the school district had a reasonable and just cause for firing the tenured teacher. In the case of Mark, the judge found the Ann Arbor Public Schools was justified.
After a hearing before the Teacher Tenure Commission, the commission upheld the law judge's order, calling Mark "unfit to teach," according to court documents.
Mark "failed to use good judgment over an extended time. (He) had many opportunities to realize that his conduct exceeded the bounds of a professional. He nonetheless continued and intensified his inappropriate relationship with (the student)," the documents state.
Mark appealed to the Michigan Court of Appeals to hear his case, but his appeal was denied on March 13 for "lack of merit on the grounds presented."
Mark could not be reached for comment for this article.
The tenure charges against Mark stemmed from a complaint filed in 2010 by the mother of one of his former students, who disapproved of an ongoing relationship between Mark and her daughter.
According to court documents, Mark and the student, whom AnnArbor.com is not naming because she was a minor during the time period of the allegations, began a dating relationship in the fall of 2006, after the girl turned 18 and no longer was a student at AAPS. That relationship was still going on when the board voted to pursue tenure charges.
Mark began his employment with the district in the fall of 2002, according to court documents. The student transferred to AAPS in August 2003 when she was 15 and a sophomore. The student no longer attended Huron High School after spring of 2006, documents say. Mark was 45 in 2010, while the former student was 22 at that time.
Mark's firing was controversial in the Ann Arbor Public Schools. He was a favorite teacher of many music students.
More than 150 supporters, including students, parents and Huron orchestra alumni, packed the Ann Arbor District Library's fourth-floor conference room on two separate occasions to ask the board not to pursue tenure charges against Mark. Supporters described him as a passionate, caring and inspirational teacher, who was a friend to all his students and only was trying to look out for the then-troubled teen.
Mark's attorney at the time, Nicholas Roumel, argued that although Mark's relationship with the student eventually did advance, this did not occur until after the girl had left Huron High School.
But for a single peck on the cheek from the student to the teacher, there was never any intimate contact, and no sexual advances were made while the student was enrolled in the district, Roumel said in previous reports.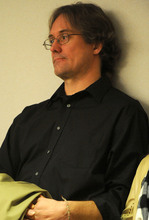 However, the peck on the cheek occurred after a golf outing and subsequent evening visit to a tavern, where court documents allege Mark bought his student an alcoholic beverage.
According to court documents, on April 21-22, 2006, Mark and the student drove separate cars, met at a golf course, golfed for several hours and then went to a tavern for several hours. Mark told his wife he would be golfing with a friend that day, while the student also lied to her mother about whom she would be golfing with, according to the documents.
The student's mother found out about the golf outing shortly after it occurred and complained to school officials, documents say.
"However, Mr. (Arthur) Williams, the principal of the high school, failed to investigate the circumstances of (Mark's) conduct, failed to memorialize the facts, failed to memorialize his conversations with (Mark) and failed to give (Mark) a clear written directive to refrain from all contact with (student's name) outside the school," the administrative law judge wrote in his decision.
District spokeswoman Liz Margolis declined Wednesday to comment on the case or the administrative law judge's opinion that Williams failed to appropriately investigate the golf outing incident between the teacher and the student.
Mark's credit card receipt from the night of the golf outing shows he purchased two alcoholic beverages while at the tavern — a 25-ounce beer and a fuzzy navel.
When questioned by Williams after the golf outing in 2006 and again when questioned by the district during an August 2010 investigative interview, Mark denied drinking any alcohol that evening, according to the documents. He later testified before the State Tenure Commission, when presented with his credit card receipt, that he had purchased and consumed both drinks.
However, Mark could not name the ingredients of a fuzzy navel and his ex-wife, who had known him since 1983, testified that his preferred drink was beer or sometimes whiskey, but she had never known him to drink a fuzzy navel, documents show.
Based on this evidence, the administrative law judge found it was more likely the student consumed the fuzzy navel, court records show.
In addition, the State Tenure Commission and administrative law judge found Mark to be insubordinate. In the July 26, 2010, letter placing Mark on leave from AAPS, he was instructed not to contact any students, parents or staff during the district's investigation.
However, Mark posted the following to his Facebook page:
Parents/Students/Alumni:
If I have ever made a positive impact on your life, my union advises that you must respond in writing if you feel my termination would be unjustified. ... . My life is in your hands. '05-07 are especially important. Please go viral. The time to act is now.
Phone records and emails exchanged between Mark and the student were the primary pieces of evidence used in the case.
The amount of email communication was described as "abundant" and the volume of telephone activity "tremendous" and "excessive." Court documents cited "very long" phone calls occurring multiple times per day and lasting "late into the night and early morning."
"There is no need for a teacher to have more than 300 telephone calls with a student in a little over a month," the administrative law judge wrote.
Court documents also indicate some of the emails may have been destroyed.
"When (Mark) turned over his district-issued computer to the district in October 2010, after he had been placed on administrative leave, the computer's store of emails had been wiped clean," say documents from the Teacher Tenure Commission. "A technical specialist employed by the district had serviced (Mark's) computer in April 2009, however, and had been able to recover a significant amount of data from the computer, including emails."
Mark denied allegations that he destroyed any emails to hide impropriety. He argued his relationship with the student during the student's enrollment at Huron was an appropriate, teacher-student relationship.
But the State Tenure Commission said the emails between the two primarily address each others' personal matters, including their mental and physical health, and "very little else." The administrative law judge concluded the emails Mark wrote were focused on developing a relationship with his student.
His disclosure of his personal life was deemed to "not serve any legitimate educational purpose and … was unprofessional in that it blurred the distinction between (his) appropriate role as a teacher and his apparent inappropriate purpose to become her confidant."
Mark was found to have taken on the role of psychologist and psychiatrist for the student, "a role which (Mark) was ill-equipped to handle," and his "efforts to counsel (the student) far exceeded the boundaries of a music teacher counseling a music student," according to court documents.
Court documents also state: Mark "flattered and cajoled" the student into viewing him as her sole confident; he gave her special treatment; he behaved in a "peer-like manner" with the student, often using profanity in correspondences; he encouraged the student to "part ways" with her high school boyfriend; he attempted to isolate her from her mother; and he also engaged in "yelling matches" with the student's mother about what was best for the student, violating the teacher-student relationship and interfering with the parent-child relationship.
The following is an excerpt from an email Mark sent to the student's high school boyfriend in the spring of 2006, shortly before he and the student became an item:
"I wanted to apologize to you about everything that's happened recently... For the past 3 years, I have only tried to help her gain confidence and to graduate from school so that she can attend college. I admit I lacked the proper judgement the night we golfed and last week when we went to Applebee's... I do consider her to be a true friend, but I refuse to jeopardize your relationship with her.

A talent like (student's name) enters a teacher's life only once in a career and I can't let her give up on herself or her ability... She adores you, (boyfriend's name), and wants you to be there for her but, in all honesty, the relationship you have shared has been unhealthy for you both. How long can you sustain it in its current state? 3 more years? Maybe 5? ... I am certain of this: her lack of self-worth can be regained through her ... music.

Wouldn't you be happier with a (student's name) who is confident in her self and ability? Being happy and confident in your separate lives will make you both more positive when you are together... Having a clinging, self-destroying wife will wear you down very quickly... It will only create resentment in you and more fear and worry in (her). Take a close look at her mother and realize (student's name) could end up just like her. Is that the mother you want for your children?"
In 2010, Roumel argued the school board was viewing the emails exchanged between Mark and his student from 2003 to 2006 in the context of their then-romantic relationship and therefore was painting Mark in a "false light."
"(The communications) were guided from Mr. Mark's sense of responsibility to reach out to a student who literally was in danger of losing her life because of her unstable home situation," Roumel said in a previous report.
Also in 2010, he asked school board trustees to reconsider the charges against Mark and to reach a decision that would not fire the instructor or commence tenure proceedings.
Roumel did not represent Mark during the tenure process with the state, only during Mark's investigation and hearings with AAPS and the Board of Education in 2010. Because of this, Roumel declined to comment on the conclusion of this case when contacted by AnnArbor.com Tuesday.
Danielle Arndt covers K-12 education for AnnArbor.com. Follow her on Twitter @DanielleArndt or email her at daniellearndt@annarbor.com.