Posted on
Fri, Jan 13, 2012 : 5:57 a.m.
Fridays and early mornings: U-M turns to off-peak hours to fight classroom congestion
By Kellie Woodhouse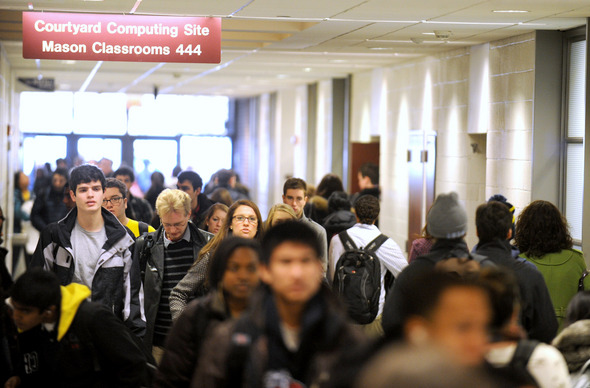 Angela J. Cesere | AnnArbor.com
University of Michigan students can expect more early morning and Friday classes in coming semesters because of a new scheduling policy that will go into effect next year.
Nearly 40 percent of U-M's classes are offered during the same three hours each day and very few classes are offered Fridays, said Martha Pollack, U-M's vice provost for academic and budgetary affairs.
The result is classroom buildings that are over congested from 10 a.m. to 2 p.m. (not including noon to 1 p.m.) and relatively empty during the early morning and late afternoon.
"Although we'd all like to teach Mondays through Thursdays, 10 to 11 a.m., we just can't do that," Pollack said.
Pollack said over-scheduling during peak hours, coupled with class start times that aren't congruent with an informal university practice of starting classes on the hour, have created "serious scheduling challenges" that often lead to a chaotic start of the semester, when a high percentage of classes have to move classrooms due to scheduling conflicts.
"So what are we going to do about this?" Pollack asked during a recent Faculty Senate Advisory Committee on University Affairs meeting. "We could build more classrooms, but money is tight ... the other option is to schedule more efficiently."
Thus, U-M will soon start requiring its 19 schools and colleges to offer more classes during off-peak hours, which include 8 and 9 a.m. and 3 and 4 p.m. Classes also will, for the most part, begin on the hour, instead of 15 or 30 minutes after the hour.
Additionally, if a school is not using all of its classrooms during an hour, the unused classroom buildings will become available to other schools, a process Pollack refers to as "backfilling." For example, if a classroom in the School of Social Work building is not claimed by social work faculty between 2 and 3 p.m., that classroom will become available to faculty in other schools and colleges during that time period.
"We've tried to be sensitive to academic priorities," Pollack said of the changes.
Nonetheless, Pollack said she expects some faculty and students won't be pleased with the changes.
"I anticipate resistance from some faculty who don't want to teach at 8 or 9 a.m. or on Fridays, from students who don't want to go to class at 8 or 9 a.m. or on Fridays," she said.
SACUA member and U-M professor Ed Rothman expressed concern about early morning classes, saying that if electives are offered during times generally considered undesirable by students elective enrollment could possibly decline.
Kim Kearfott, a medical school professor and SACUA vice chair, said students might be less receptive to class material during early morning classes.
"The young adult mind of a freshman or sophomore doesn't work well early," she offered.
Rothman also warned that researchers might not appreciate the change.
"We should be teaching more Fridays for pedagogical reasons but ... (there are) faculty who want to do research on Fridays," he said.
SACUA member and Otorhinolaryngology professor Charles Koopmann said that offering classes on Fridays could make scheduling more difficult for athletes and other university students who have to travel regularly.
The new scheduling plan will go into effect in January 2013, although schools will begin informally integrating the plan during the fall 2012 semester.
Kellie Woodhouse covers higher education for AnnArbor.com. Reach her at kelliewoodhouse@annarbor.com or 734-623-4602 and follow her on twitter.