Posted on
Sat, Oct 3, 2009 : 2:26 p.m.
Navigating different avenues of undergraduate engagement at the University of Michigan
By Dwight Lang
The University of Michigan 2009-10 academic year is under way. We know about the multi-million-dollar grants, the highly ranked academic departments and 25,000-plus high-achieving undergraduates that form the foundation of Michigan's strong national reputation.
Of course, we also hear about and see the early-semester parties. Sometimes we focus too much on this aspect of the undergraduate experience, while not paying enough attention to student engagement.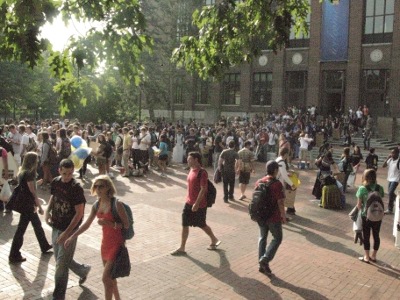 Dwight Lang/Contributor
If you walked around Festifall (on the Diag) or Northfest (on North Campus) in early September when undergraduate groups highlight campus and community commitments, you would have seen an often unheralded side of university life. I had an opportunity to stroll among countless tables and talk with students about what they do outside the classroom.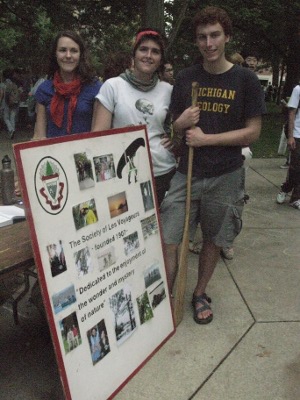 Dwight Lang/Contributor
The first organization I noticed brings students to the great outdoors. The Society of Les Voyageurs sponsors trips, including caving, rock climbing and snow shoeing. Megan Davern said 30 members are active, and they even have a cabin near Argo Dam!
Another nature-oriented group uses technology to ply the water underworld. Stephen Curtis told me 20 students are involved in Human Powered Submarines - a group of dedicated young women and men who build and race one-person, torpedo-shaped, acrylic/plastic submarines complete with pedal-powered propellers and clear plastic fronts. Students don scuba gear, carefully crawl inside before hatches are battened down and glide with the fish. No claustrophobics please!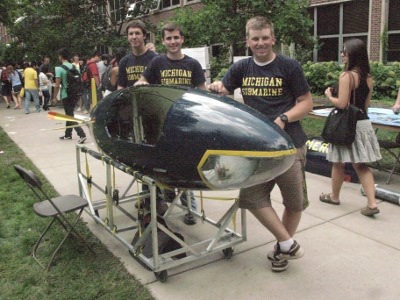 Dwight Lang/Contributor
At 11 a.m. on Sept. 10 a number of groups still hoped for tables on the nearly full Diag. First Generation College Students @ Michigan did not win the table lottery that morning, but I learned more about their goals. Angie Buttigieg said first-gens@Michigan seeks to raise awareness about students who are first in their families to attend college.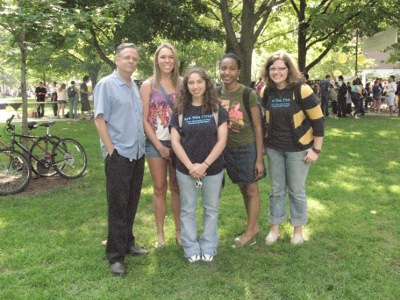 Dwight Lang/Contributor
I also spoke with Alexa Cowing from the Japan Student Association and heard about efforts to develop greater understanding of Japanese culture. JSA sponsors workshops and organizes social activities (e.g. Japanese movies, Karaoke) for all interested students.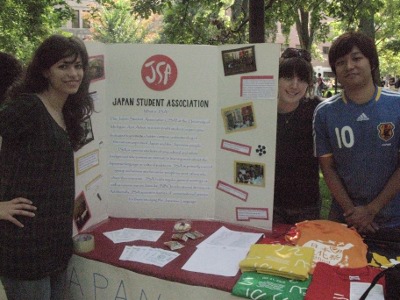 Dwight Lang/Contributor
Next I stopped by Black Volunteer Network. Founded in 1994, BVN facilitates student engagement in community service. Charlynn Bowers explained how members work in a variety of settings, including Ronald McDonald House and Big Brothers Big Sisters. Soul on Ice is a popular fundraising activity.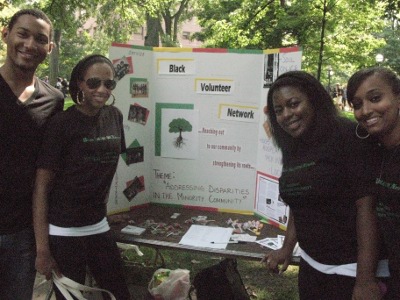 Dwight Lang/Contributor
Not surprisingly, a number of groups focus on political and economic issues. Students In Free Enterprise challenges members to change the world. Abe Fadel said SIFE seeks members with a head for business and a heart for the world. Wow - a breath of fresh air after months hearing about shady financial shenanigans!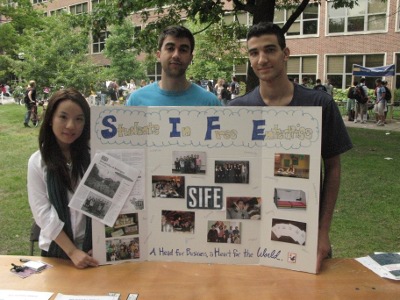 Dwight Lang/Contributor
Just a few yards away College Libertarians discussed the role of government in economic decision-making. Ayn Rand's Capitalism: The Unknown Ideal was prominently displayed, as was information about Ron Paul (R-Texas). Jonathan Slemrod indicated CL helps sponsor various campus speakers like John Stossel of ABC News.
Dwight Lang/Contributor
Walking further down the sidewalk I noticed Students Organizing for Labor and Economic Equality. Jody Schechter said her organization has chapters on numerous college campuses (e.g. Berkeley, Purdue, and Columbia) and works with labor unions to help improve working conditions in America.
I wondered if the College Libertarians, Students in Free Enterprise and Students Organizing for Labor and Economic Equality might get together to watch Michael Moore's Capitalism: A Love Story. If not, I hoped they could at least chat over warm cups of coffee or tea at Espresso Royale on State. Who knows; reasoned conversations might replace all the loud shouting.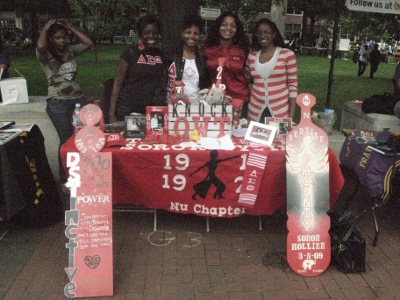 Dwight Lang/Contributor
My spirits soared after talking for three hours with various undergraduate groups. I witnessed passion, optimism and a willingness to engage. If students around the country are as enthusiastic as these UM undergraduates our future looks bright indeed.
Dwight Lang/Contributor
Dwight Lang is Lecturer in the Sociology Department at the University of Michigan. He can be reached at: dwlang@umich.edu.