Posted on
Sun, Jan 29, 2012 : 5:58 a.m.
Pinched for space: University of Michigan music school wants upgrades
By Kellie Woodhouse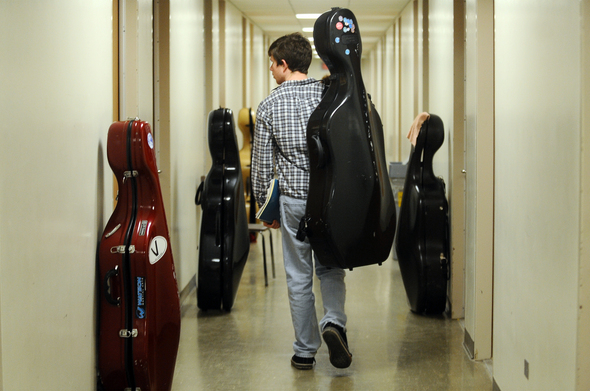 Melanie Maxwell I AnnArbor.com
In the fluorescent-lit basement of a 1960s-era building on the University of Michigan's North Campus, violin chords mix discordantly with the boom of the trumpet and the deep notes of the cello as hundreds of music students spend thousands of hours each day practicing their art.
Their practice time, many of them say, is the most important element of their studies at the University of Michigan School of Music, Theatre and Dance, a school regularly ranked as one of the top five music schools in the country.
"We practice every day," said sophomore vocalist Sara Bonner. "Our classes are important, but we're here for our instrument."
Musicians at U-M are expected to practice, on average, four hours a day.
But existing facilities, or the lack of them, make optimal practicing difficult.
During the 2010-2011 academic school year there were 1,156 students enrolled in SMTD, the vast majority of them in the music program.
There are 50 practice rooms open to all students.
"We have students that are hanging out the windows," said vocal professor George Shirley. "The practice facilities are inadequate to service the students. They have to wait in line to use the facilities, the rooms are small and they're not up to par with facilities that are being constructed now.
"There are students sitting on the floor waiting to gain access to some of the classrooms where they also practice," Shirley said.
Students, faculty and staff say it's not uncommon for students who want to practice midday to have to wait in a line. The practice rooms are open from 6 a.m. until 2 a.m.
Joshua Glassman, a senior vocal major, said that he recently was unable to warm up for a lesson because "there was a line of students waiting down the practice hallway for a room." Another time he had to wait 30 minutes before a practice room opened up.
Glassman's experience is not unique.
Junior cello major Peter Garrett became so frustrated with waiting for practice rooms that he wrote a six-page paper on the topic for an English class last semester.
"We need more practice rooms. Just sheer numbers," Garrett said.
In addition to the 50 rooms open to all students, the school has another 22 rooms available to pianists and an additional 30 rooms reserved for expensive or heavy instruments, such as the organ, harp or drums. Those rooms are locked and solely available to students majoring in the specialized instrument.
Due to the lack and condition of practice rooms, students often use empty classrooms to warm up and rehearse.
"Sound isolation is poor so we try to restrict the amount of practicing that is done at the times that courses are meeting because of the sound bleed-through," explained Steven M. Whiting, SMTD's associate dean for graduate studies.
It's that very bleed-through of sound that makes it difficult for students to practice outside of SMTD facilities. The noise of practicing is often disruptive to roommates, dormitories and other campus areas.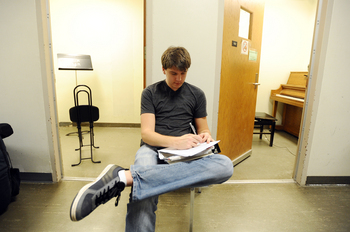 Melanie Maxwell I AnnArbor.com
Inadequate facilities
The Earl V. Moore Building, the music program's main facility, was at the time of its construction in 1964 an architectural gem of campus. Designed by renowned architect Eero Saarinen, the mind behind the St. Louis Arch, the facility was built on a serene patch of North Campus and features large windows and brick walls throughout.
But like any nearly 50-year-old building, it has inadequacies. The practice rooms are small, square, windowless closets located in a low-ceilinged basement.
When the Moore building was first constructed some of the school's most popular programs, including its musical theater, jazz and performing arts technology units, didn't exist and U-M's theater and dance programs weren't yet under the purview of the school.
"No one could foresee how these departments would become essential parts of SMTD's vibrant programmatic diversity," Dean Christopher Kendall said in an e-mail.
As a result the school has experienced growing pains over the past decade.
At least 12 basement rooms that once served as practice rooms have been converted to Graduate Student Instructor offices or closets to accommodate for a lack of appropriate storage.
While most of the music program classes and offices are housed in the Moore building, faculty offices and studios that don't fit in Moore are located in a building at the edge of North Campus, about three-quarters of a mile from the Moore building. Offices and studios are also located on five floors of the Burton Memorial Tower.
"This building is a historic building and I don't think we should leave it but I certainly would love a bunch of money to make it work," said SMTD facilities manager Mary-Alice Wiland. "Music has changed and our needs have changed."
For at least a decade, according to Whiting, the school has been asking university administrators for funds to expand the Moore building in order to provide one space for classes, offices and more practice rooms.
Funding, however, hasn't been easy for the school to come by.
"It has been an issue since I came to the university in 1987," Shirley said.
According to Shirley, faculty were optimistic a facility improvement was imminent when Kendall assumed deanship of the school in 2005. At that time Kendall, former dean of the University of Maryland music program, had overseen design and construction for a $130 million state-of-the-art performing arts center at Maryland.
"But he's not at present been able to move the plan for a new (or expanded) building forward," Shirley said. "There are other units on campus that are deemed more important, I guess, when it comes to providing updated facilities, so the School of Music continues to languish."
SMTD has not been entirely ignored by the general fund.
Three years ago the school's windows and HVAC system were replaced. The $43 million Charles R. Walgreen, Jr. Drama Center and Arthur Miller Theater, a performance venue for the theater unit of the school, opened six years ago. The theater was constructed with a mix of university funds and donations received during the school's Michigan Difference fundraising campaign.
Losing out?
Victor Huls, a freshman cellist, says that if he had chosen a school solely on its classroom and practice facilities, he wouldn't have chosen Michigan.
"I tried to factor it in," said Huls, who came to U-M to study under cellist Richard Aaron. "But if I had only worried about practice rooms, I wouldn't have come here. They're just really small and . . . not that comfortable."
The worry, faculty and students say, is that if U-M's music facilities can't compete with other top programs, the music program will gradually slip in eminence.
"Many factors influence a student's decisions about which college to attend and their experiences once there," Kendall said. "To ensure that we remain a national leader in the performing arts, we need to continue addressing physical plant challenges to meet essential requirements for our programs."
Shirley put it more bluntly.
"A school that ranks as high as the University of Michigan School of Music, Theatre and Dance does, it's a real detriment to not have a facility that can compete with facilities at other universities," he said. "If we can't offer our students facilities, practice space and performance facilities, then we lose out to other universities."
The University of Denver opened a state-of-the-art performing arts center in 2002 that features practice rooms equipped with technology to simulate a range of different performance spaces, including large concert halls. Indiana University's Jacobs School of Music has more than 170 practice rooms.
"It makes my mouth water," Shirley said. "It's hard to compete with those facilities, especially in this day and age where tuition is costly and students want to go where they can get the best bang for their buck."
Kellie Woodhouse covers higher education for AnnArbor.com. Reach her at kelliewoodhouse@annarbor.com or 734-623-4602 and follow her on twitter. An earlier version of this story incorrectly identified Victor Huls faculty advisor. AnnArbor.com regrets the error.