Posted on
Tue, Mar 12, 2013 : 5:56 p.m.
Unloaded BB gun found at Pioneer High School Tuesday
By Danielle Arndt
An unloaded BB gun that was found in a boys' bathroom at Pioneer High School Tuesday has been turned over to police, school officials said.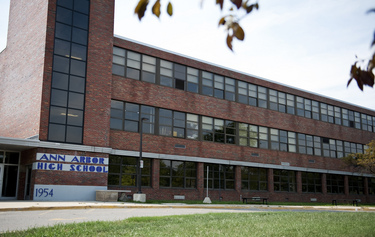 Daniel Brenner | AnnArbor.com file photo
New Pioneer Principal
Cindy Leaman
sent an email to parents Tuesday afternoon to keep them apprised of their students' safety. She said the gun was discovered after a severe weather drill. It was sitting unattended on the bathroom floor.
A community assistant found the gun and brought it to Leaman's office, she said. After which point, she gave it to the Ann Arbor Police Department.
An investigation is underway. The district is not aware of any incidents involving the gun other than its presence on campus at this time.
"I am hoping that you will help to dispel any rumors that might arise from this incident," Leaman wrote. "If your student hears anything that will shed light on this, please encourage them to email pioneerneeds2know@yahoo.com or any of the administrators."
Lt. Ed Dreslinski with the AAPD said police would hold on to the weapon until the district's investigation is complete. Then it is up to the prosecutor and the detective in charge of the case to determine if the weapon should be returned to the student or destroyed.
"We look at the totality of the circumstances and what was going on," Dreslinski said.
AnnArbor.com cops and courts reporter Kyle Feldscher contributed to this report.
Danielle Arndt covers K-12 education for AnnArbor.com. Follow her on Twitter @DanielleArndt or email her at daniellearndt@annarbor.com.