Posted on
Fri, Aug 30, 2013 : 5:59 a.m.
Washtenaw County schools adopt new approach to confronting active shooters
By Amy Biolchini
Courtesy photo
School districts across Washtenaw County will be adopting a new school safety framework this fall that gives staff more options when responding to threats of active shooters.
At the consensus of all of the police agencies in the county, staff in all of the county's public schools as well as Eastern Michigan University and Washtenaw Community College will be trained using the ALICE program this year, said Derrick Jackson, public information officer for the Washtenaw County Sheriff's Office.
The method places a priority on getting away from danger, and if that's not possible, knowing how to hide and stay secure in place with all the tools available -- not just by locking a door.
"We're talking about lots of staff, lots of school buildings," Jackson said. " There will soon be trained staff from every school district in the county."
Courtesy photo
The ALICE acronym stands for Alert-Lockdown-Inform-Counter-Evacuate.
It was created by a law enforcement officer, Greg Crane, after the 1999 tragedy at Columbine High School as an alternative to the way schools were preparing for active threats through lockdown drills.
"The primary difference is that we don't teach a particular response, and we don't believe that you can write a one-size-fits-all approach," Crane said in an interview with AnnArbor.com. "Our philosophy was that, let's stop giving people a plan and telling them they have to follow that particular plan. Let's give them training and the authority and the ability to make their own decisions based on their own sensory input."
The system trains teachers and school staff how to evaluate a situation and respond if they're threatened by an active shooter in a school.
Instead of locking the classroom door and having students hide in a corner, the ALICE program trains teachers to use their instincts to decide if evacuating is a feasible option. The program also encourages barricading doors if evacuation is not an option, and teaches confrontation techniques to deter a shooter if face-to-face contact is made.
"How you train is how you respond," Jackson said. "You either respond with fight, flight or freeze."
Lockdown training effectively teaches people to freeze in an active shooter situation in a school, Crane said—which is why he developed the ALICE program.
"It's not so much that the (lockdown) strategy doesn't have its merits," Crane said, stating that the danger is in making it the only strategy.
The ALICE program empowers the community to act by giving them options for responding to unpredictable, dangerous situations, Jackson said.
A search for school preparedness
Police agencies in Washtenaw County were confronted with questions about the safety of schools and preparedness of staff to deal with active shooters in the wake of the deadly shooting at Sandy Hook Elementary School in December, Jackson said.
"We know that the former lockdown protocol left our students and staff vulnerable and that more needed to be done to empower staff to take actions designed to save lives and buy more time until law enforcement officials could arrive on the scene," said Scott Menzel, superintendent of Washtenaw Intermediate School District and Ypsilanti Community Schools.
A number of options were considered—from drafting a new plan for Washtenaw County schools to using Department of Homeland Security data to adopting the Run, Hide, Fight program, Jackson said.
Jackson said the sheriff's office discovered the ALICE program as it was being implemented in the Lincoln Park School District in Wayne County.
After watching the training program and how it was received in Lincoln Park schools, Jackson said the sheriff's office recommended it to police chiefs in departments in Washtenaw County and they approved the choice. Superintendents in all of the county's school districts have agreed to the program.
"The training has been well-received by the local school districts, and the administrators who participated in the training feel good about having a more comprehensive plan were such an event to occur," Menzel said.
To date, there are police officers from every agency in Washtenaw County that have gone through the ALICE training program. They're now responsible for training individuals in each school district, and the school districts will pass the training on to all of their staff.
Jackson said there were individuals in the training that had doubts about the effectiveness of the program—until they underwent an active shooter scenario in which a deputy fired blank rounds.
The simulations are a part of the overall training process for staff, Jackson said.
For Washtenaw County schools, it will be up to each individual district to determine how the ALICE program will be discussed with students, if at all, Jackson said. Conversations won't happen with elementary school students, Jackson said.
Jackson stressed that implementation of the ALICE program will be a community conversation, as it is easily applicable to private schools, charter schools, preschools, hospitals and small to large businesses.
Designated emergency response teams in each district have already received the new training. For Ann Arbor Public Schools, spokeswoman Liz Margolis is among those that have received the training.
Margolis said that the training schedule is still being finalized and that parents will be notified of the change in the school's approach by letter.
A future parent session is also in the works for those that want to know more, Margolis said.
How the ALICE program works
The ALICE program is in use in 30 states by about 3 million staff and students, Crane said.
"We've told people for years that they have to stay in the building where there's a very violent situation," Crane said. "Not everyone is going to be in the same level of danger inside the building."
Crane said the ALICE program places a priority on getting away from danger, and if that's not possible, knowing how to be secure without just relying on a door.
"How do you make yourself a harder target?" Crane said.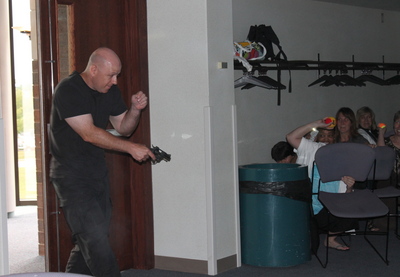 Courtesy photo
If a teacher chooses to keep their class in lockdown mode—securing in place, as Crane calls it—the ALICE program teaches them how to barricade their door to make it harder to open and gain access.
"We've found in many of the (active shooter) situations that when they tried to breach (the door) and weren't able to gain entry, they've moved on," Crane said. "Every active shooter knows the police are on their way."
Should contact be made with a shooter, the ALICE program trains people how to counter the potential attack.
Distracting a shooter by making noise or visually throwing them off allows you to gain distance from them—which in turns improves your outcome, Crane said.
"People don't understand what an impact distance has on accurate shooting," Crane said.
The counter methods the ALICE program includes have come under fire by critics, Crane said.
One of the counter techniques the program advocates for is throwing items at a shooter's face, because people are naturally inclined to duck if something is thrown at their face, Crane said.
"Our critics say it's crazy to throw a stapler at a gunman," Crane said, explaining: "A stapler is not a weapon; it's a distraction."
The ALICE program also recommends schools stop using the word "lockdown" in the event of an active shooter in the building.
"Tell them what you know—if their lives are in danger, everyone deserves to know what's going on," Crane said. "Don't give people commands; give them information."
Amy Biolchini is the K-12 education reporter for AnnArbor.com. Reach her at (734) 623-2552, amybiolchini@annarbor.com or on Twitter.