Posted on
Sat, Jun 25, 2011 : 2:41 p.m.
Emergency manager law opponents gather in Ann Arbor to generate momentum for repeal efforts
By Lisa Carolin
Ann Arbor area activists called a meeting Saturday to generate opposition to a controversial law that boosted the authority of emergency managers installed by the state of Michigan to turn around financially distressed municipalities and school districts.
More than 50 people attended the meeting, which was organized by the Washtenaw County Community Action Team as a way to generate more support for a bid to overturn Public Act 4 of 2011. WCCAT is a coalition of local activists, union members, students and community members.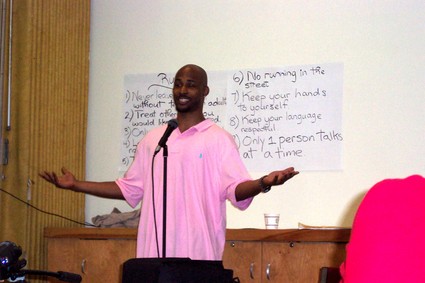 Lisa Carolin | For AnnArbor.com
Gov.
Rick Snyder
signed the legislation into law in March, giving emergency managers the power to sever union contracts and replace elected officials if a financial crisis is dire enough to warrant severe action.
Three cities — Benton Harbor, Ecorse and Pontiac — and Detroit Public Schools already have emergency managers, but more are likely to be installed over the next few years.
The meeting, held at the Ann Arbor Community Center, is part of a statewide initiative to place the issue on the ballot in 2012, giving voters the chance to repeal the legislation. The law's opponents include the Michigan Education Association and the Michigan Democratic Party.
The nonprofit Sugar Law Center of Detroit also filed a lawsuit on Wednesday challenging the law.
Snyder has defended the legislation as tough, long-overdue action that's necessary to help distressed communities get back on their feet.
Ann Arbor Education Association President Brit Satchwell encouraged attendees to join the drive to secure signatures to repeal the law.
Brandon Jessup, chief executive of nonprofit Michigan Forward and a former president of Eastern Michigan University's chapter of the NAACP, said at the meeting that the repeal effort needs to collect 161,304 petition signatures by November to freeze the law and get it on the ballot.
"This is about democracy and freedom," Jessup said. "The fundamentals of government are being dismantled in our face."
Audience member Georgia Forster said, "The emergency manager law gives too much power to one person."
"This is financial Martial law in a democracy," said audience member Barbara Bowman.
"This is not a partisan issue," said audience member Liz Palmer. "It takes away everyone's vote."
Audience members gathered in groups, and a spokesperson for each group shared concerns. They said they were concerned that the the emergency managers had too much power to decide what qualifies as a financial crisis and that the state's own actions can cause schools to be unstable, leading to a "manufactured crisis."
"This removes the checks and balances that ensure accountability and lets someone with no background in education dictate curriculum," said Tanya Mitchell, a teacher in the the Lincoln school district.
Another speaker today was David Bates, an Ypsilanti parent and school board member.
"The state forces schools into a deficit and then sends someone in to take it over," Bates said. "Is that in the best interest of our children?"
Chris Savage, a local blogger, said it was important to make people aware of the emergency manager law's threat to democracy.
"These emergency managers are primarily certified public accountants who can do whatever they want," Savage said. "It disenfranchises Michigan voters by stripping away the powers of their local elected officials and gives them to a single, appointed individual."
Lisa Carolin is a freelance reporter for AnnArbor.com.