Posted on
Mon, Sep 27, 2010 : 6 a.m.
Acing the ACT: Huron High School students explain how they did it
By Kyle Feldscher
The average ACT score among high school students who took it last year: 21.1.
But eight Ann Arbor Huron High School students, all in the 2011 graduating class, achieved a rare feat: a perfect score of 36. It's an honor they share with less than one-tenth of 1 percent of test-takers nationwide, according to the American College Testing website.
So how did they do it? It was a combination of smarts and preparation.
The ACT assesses a student's skills in the areas of English, mathematics, reading and science. The test is often used by colleges and universities to determine entry into their institution, and 36 is a perfect score.
Those earning a perfect score at Huron were: Jong Hwan Koo, Pelham Barron, Joshua Cheng, Derek Wu, Sussy Pan, Heemyung Hwang, Joo Young Moon and Philip Tsao.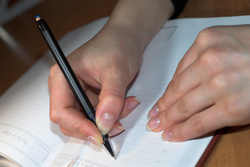 Koo, who is applying to the Massachusetts Institute of Technology and many other schools, said there's a certain amount of pride in being part of such a select group — along with the surprisingly large amount of students in it at Huron.
"There's definitely some pride, it is our school," he said. "Sometimes even if you're really smart, you don't do well on tests, I'm just somewhat surprised that so many people did well on that day. It's amazing that many people in our year got a perfect score."
Huron Principal Arthur Williams said he's been at Huron for 16 years and remembered just one or two perfect ACT scores in that time.
"It's a really special class, and for those students, it's really powerful," he said. "I've been watching the ACT around the country, and when most communities get one perfect score (they're excited), but to have eight in one place at one time is monumental."
Many of the students said they didn't do anything special to prepare for the test, beyond taking a few practice tests or looking over some test prep books.
Cheng, a prospective University of Michigan student, said being familiar with the test before he took it was a big part of his strategy.
"There's not really a whole lot on the test that's knowledge-based," he said. "It's mostly being familiar with the test and the types of questions and not making mistakes."
The test was a culmination of about three months of hard work and studying for Pan, who said she took a practice test either online or in a prep book every weekend from Christmas break until the test in March.
All of that preparation helped Pan, who's hoping to go into international business and study at Michigan or an East Coast university, to walk into the test with a calm confidence.
"I did as much as I could before I took the test," she said. "Going into it, I was just thinking, 'I'm going to do however I'm going to do.'"
Hwang — who is hoping to get into MIT — said the high test scores are a reflection of the hard work of the students' teachers and schools.
"It says a lot about the Ann Arbor environment," she said. "I'm happy, pleased and excited to be a part of this group that can achieve these kind of things."
"We're doing something right," Pan said of Huron. "I've always really liked our class, we've got a good mix of bright students that are also open and not just limited to studies."
Tsao, another potential Wolverine, said he thought he got a little lucky on the test. He thought he did well, but it didn't feel it would be perfect after he was done.
He said the large group of 36s made him proud of his school.
"I've always thought of Huron as one of the better schools in the country," he said.
Many members of the group said actually applying to the prestigious universities they hope to attend was harder than the ACT. Barron, who plans to apply to Michigan, Yale and Brown, said the process is wearing on him.
"The ACT, it was just once and done," he said. "The application process is pretty tedious."
Kyle Feldscher covers K-12 education for AnnArbor.com. He can be reached at kylefeldscher@annarbor.com.