Posted on
Wed, Dec 28, 2011 : 5:56 a.m.
Eighth-graders launch campaign to bring 2018 Youth Olympics to Ann Arbor
By Danielle Arndt
Three students at Ann Arbor Open School have formed an organization to bring the Youth Olympic Games to Ann Arbor and the University of Michigan in 2018.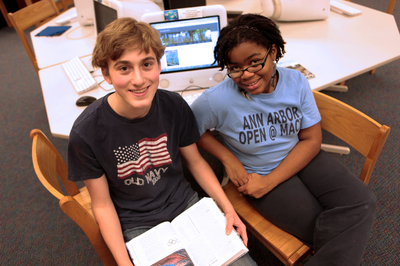 Chris Asadian | AnnArbor.com
Matthew Ferraro
, 14, at first was a little embarrassed to tell his friends,
Genera Fields
and
Claire Benard
, about his idea.
He knew he was dreaming big, but the self-proclaimed "Olympic nerd" said Ann Arbor offers something the other bidders for the 2018 Youth Olympics don't have: community.
"We're a safe, small town in comparison," Ferraro said.
So far the cities that have announced bids are Monterrey, Mexico; Buenos Aires, Argentina; Medellin, Colombia; Abuja, Nigera; and Dagastan, Russia.
"We're small, but yet we fit 114,000 people in here every Saturday," Fields said, referring to when there is a home University of Michigan football game. "We're close to the airports in Detroit and we have an excellent busing system."
The trio has it all planned out, from the fields and the stadiums to the U-M dormitories for the Olympic village.
There were 500 athletes, a total of 3,600 people - including officials and coaches - that needed to be accommodated during the 2010 summer games.
The teens will host an informational meeting about their plan for members of the community at 5:45 p.m. Wednesday at the Ann Arbor District Library. They hope the meeting will launch a "domino effect" of excitement, interest and volunteers, Fields, 13, said.
The group will need to act fast. In order for the Youth Olympics to come to Ann Arbor in 2018, Ann Arbor must be nominated by the United States Olympic Committee (USOC) no later than March 1, 2012.
The host city for the 2018 Summer Youth Olympics will be declared in June 2013.
The teens currently are attempting to spread the word about their meeting and efforts by using fliers and contacting various city officials, U-M and the Ann Arbor Area Convention and Visitors Bureau.
Much of their success would hinge on U-M's willingness to allow the Olympics to use the Big House for field events and the opening ceremony, the Donald B. Canham Natatorium, the Crisler Arena and other facilities.
Ferraro said the first step is gathering more supporters and convincing the city to pass a vote consenting to the group's pursuit of obtaining the 2018 Games.
The first Summer Youth Olympics were hosted in Singapore in 2010. They were started to inspire young people around the world to participate in sports and to adopt and live by the Olympic values, according to the website.
Ferraro said the games would bring a lot of positive attention to Ann Arbor and help boost both the state and local economies. He also said being close to Detroit could give the city an edge.
"The International Olympic Committee knows who Detroit is, knows who Michigan is. So we are hopeful they'll be lenient and supportive considering between 1930 and 1972, Detroit was turned down a number of times to host the Olympics," Ferraro said. "They nearly got it in 1968."
Fields said this is the Ann Arbor community's opportunity to do something bigger than itself.
"I want to be able to look back as a 20-something year old and say, 'Yeah, I made this happen and how cool is this,'" Fields said.
Ferraro designed a website to inform people of his and his friends' efforts. They also have a Facebook page in the works. Visit http://annarbor2018.weebly.com for more about making this happen.
Staff reporter Danielle Arndt covers K-12 education for AnnArbor.com. Follow her on Twitter @DanielleArndt or email her at daniellearndt@annarbor.com.