Decision 2009: Washtenaw County voters debate merits of school enhancement millage
Posted on Tue, Nov 3, 2009 : 7:09 p.m.
There were several sideshows on the menu for Election 2009 in Washtenaw County, but the issue that moved voters to the polls was the countywide schools enhancement millage.
The millage, if passed, would raise $30 million in each of the next five years, to be split between traditional school districts in the county. The 2-mill tax would cost the owner of a home with a taxable value of $100,000 about $200 a year.
At a time when schools are bracing for major cuts in per-pupil spending from the state, schools have argued the millage is necessary to prevent draconian spending cuts.
AnnArbor.com visited several polling sites throughout the day today. Of the several dozen voters who talked to reporters, most appeared to be opposed to the millage.
ANN ARBOR
Sigrid Goodman votes in every election, but said this one was really important - it affected her pocketbook directly.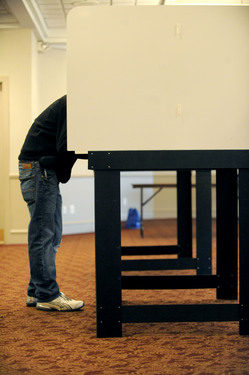 Angela Cesere | AnnArbor.com
"I did not feel good about the millage," Goodman said as she exited the polling station at Ann Arbor Pioneer High School. "I'm a retiree. I live on a very limited income - I can't afford to pay any more taxes than I already pay. If the economy were better, maybe I would've voted differently."
Goodman sounded a note that was a familiar one among voters today - while she loves the school system, there has to be a better way to keep books and teachers in classrooms than raising taxes.
"I think we do value education, and I do too," Goodman said. "But it's not that simple. I have to live, too."
AnnArbor.com caught up with Council Member Marcia Higgins on her way out of the polls. Higgins is up for re-election against recent University of Michigan graduate Hatim Elhady.
Save for a knowing smile, Higgins declined to say which council candidate won her vote.
But she was impressed with the turnout.
"This isn't presidential, it's not gubernatorial - it's all local. And people still showed up," Higgins said, noting proudly she was the 355th voter at the precinct.
Election officials at Ann Arbor Pioneer and elsewhere agreed turnout was strong.
SALINE
Even though a city council election is being decided in Saline today, it was still the countywide schools enhancement millage that captured most voters' attention.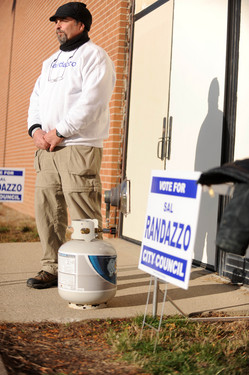 Angela Cesere | AnnArbor.com
Saline resident Kathy Flavin said while times are tough for schools, they're even tougher for taxpayers. Flavin expressed a skepticism common among several voters in Saline.
"Almost everyone has had to sacrifice in this recession - companies have had to cut back, workers are taking lower wages and fewer benefits," she said. "Why shouldn't schools have to change as well?"
Several Saline voters cited waste in the school system and said efficiencies should be found before schools turn to taxpayers to foot the bill.
Kathy Redies, a teacher at Saline Alternative High School, disagreed. She said she's been warned to expect fallout if the millage doesn't pass.
"If this millage fails, Saline schools will be $1.5 million in the hole," she said. "I've heard that everything is on the table. At my school alone, we're meeting the needs of 60 at-risk students; we can't take any more cuts. I think our schools need our support."
Dan Cameron, a peer educator at Saline High School, came out to support the millage. Though he said his position is federally funded, Cameron said it's been made clear all manner of cuts will occur if the millage fails. The kids don't deserve that, he said.
"Students would lose out on music programs, advanced placement programs, not to mention school supplies" if county voters rejected the millage. "That's just not right."
Even though her son has been told he could lose the music classes he enjoys, Judy McCoy said she cast her vote against the millage.
"It's just like I told my son: Music class is a luxury, not a necessity," McCoy said. "If that's a luxury we want to continue, it's up to us in the community to pay for it out of our own pockets. Additional taxes are not the solution."
Carrie Krantz of Saline has a child in the school system and was a vocal supporter of the millage.
"We're going to be losing substantial funding from the state government," she said. "If we don't step up to the plate and support our schools, then how can we say we're accountable for what our children do in the future?"
Mike Puckett, a building maintenance supervisor in the Saline school district, wouldn't say how he voted on the measure but was insistent schools should trim their own budgets first before asking taxpayers for help.
"There are administrators still getting raises right now," Puckett said. "The pain is not being shared equally. I really think voters are starting to wise up and ask more questions - I don't think that's a good sign for this millage."
YPSILANTI TOWNSHIP
Between public safety and schools, voters in Ypsilanti Township had two high-stakes millages on their plates.
"I definitely wanted to support the Ypsilanti police," Bill Knox said while exiting the polling station at the Washtenaw Country Club. "I definitely believe we need more police out on the streets, protecting us."
But when asked about the cost of such measures - both of which would raise property taxes by $200 a year for homes with a taxable value of $100,000 - Knox, a paraprofessional in Ypsilanti schools, said sacrifices would be necessary to keep the streets safe and schools well-equipped.
"That's just part of the sacrifice you have to make for the greater good," he said.
Ypsilanti Township contracts with the Washtenaw County Sheriff's Department for police protection; officials have said 10 deputy positions will likely be cut if the measure fails.
Celeste Hawkins, an Ypsilanti Township resident who has children in the Ypsilanti school district, said both millages seem to have been rushed through in an effort to scare voters.
She cited a meeting at her daughter's school to discuss the school millage. After a representative from the Washtenaw Intermediate School District gave a presentation on why parents should pass the measure, Hawkins said she asked exactly what students would lose if the millage didn't pass.
The representative didn't have an answer, Hawkins said.
"I knew at that moment how I would vote," she said. "I don't like fear tactics. OK, we might have less per-pupil spending, but no one has explained what that means - how it will affect the learning our students do in the classroom. No one has given me that answer."
The polls close at 8 p.m. Keep coming back to AnnArbor.com for updated election results all night.