EMU and clerical workers reach tentative 'eleventh-hour' agreement after six months of tense negotiations
Posted on Thu, Aug 23, 2012 : 3:50 p.m.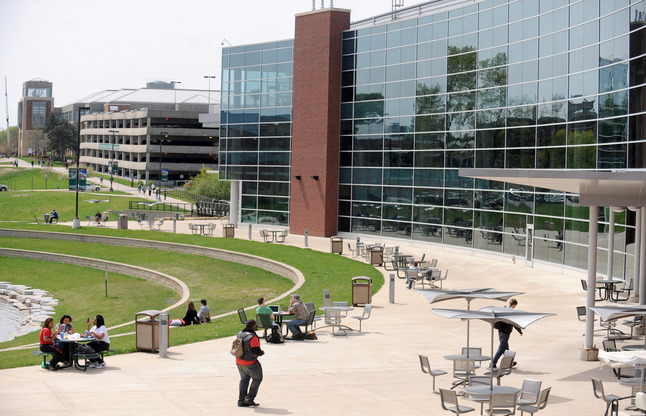 File photo

Six months of tense contract negotiations may be at an end after Eastern Michigan University clerical workers and administrators reached a tentative four-year contract agreement.

The compromise comes after the majority of union members voted down an offer in early July, rallied against what they considered unreasonable bargaining and commissioned a plane to fly in the sky and carry a banner claiming university President Susan Martin is "unfair to clericals."

It also comes the week marking union leader Karen A. Hansen's 25th year with the university. During those years, Hansen has helped negotiate at least four contracts for the 200-plus member union. This negotiation, she says, was unlike any of the others.

"It was the worst I have ever had," she said. "It was like pulling teeth, but at the eleventh hour we finally got some movement."
Kellie Woodhouse | AnnArbor.com
That eleventh-hour change was EMU's decision to cut back annual health insurance premium increases from 12 percent to 8.25 percent, a change administrators refused to budge on when negotiating with the
Police Officers Association earlier
this year.
In an effort to contain costs, EMU this year is shifting a portion heath-care costs onto employees. However, clerical workers contend that the additional cost, coupled with low raises, would have essentially amounted to a pay cut.
"I am pleased that they finally moved on health care because what they were presenting originally was a hardship for many of our clericals," Hansen said. "They were sticking to [the 12 percent annual premium increases] no matter what and then finally on Tuesday [Aug. 21] they moved."
The tentative agreement doesn't offer clerical workers a raise the first year but offers them a 1.5 percent raise the second year and a 2 percent raise the third and fourth years. The agreement struck down in July included a 0 percent raise the first year, 1 percent the second year and 2 percent the third year.
The average clerical worker earns a base salary of $34,000, Hansen said.
Heath care costs will still rise, causing workers with families to pay as much as $5,000 a year, depending on services sought.
EMU spokesman Geoff Larcom said the shift is necessary to deal with rising health care costs incurred by the university.
"This is not an issue singular to Eastern Michigan University. Consistent with national trends, Eastern's health care costs are projected to increase by 8.5 percent annually," he told AnnArbor.com in July.
To allay concerns among clericals, EMU offered to pay or lower premiums for a couple of plans during the first year of the agreement. Additionally the agreement includes an annual $1,250 lump sum payment to all clerical workers and a onetime $750 bonus.
"[Our members] have always been aware of the difficult economic times we are all in and they know they need to pay their fair share," Hansen said. "The difficult thing is that our share, portion-wise ..., was too difficult for our clericals because of the fact that we make so much less."
It's been a summer of bargaining for university administrators. EMU came to an agreement with the faculty union last week, and in late July the Board of Regents approved a four-year contract with the school's police officers' union.
The clerical union's contract will run through June 30, 2016. A date has not been set for a union vote on the agreement.
The union's previous contract expired June 30.