Posted on
Tue, Dec 27, 2011 : 5:58 a.m.
Hands-on experience: EMU students design workspaces for new Ecology Center offices
By Laura Blodgett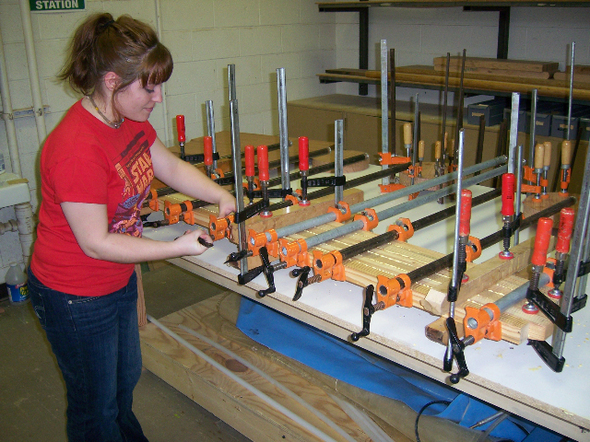 Courtesy of Eastern Michigan University | For AnnArbor.com
Students from a design class at
Eastern Michigan University
designed and built workspaces for the new offices of the
Ecology Center
, a 40-year-old nonprofit environmental research and advocacy organization.
The Ecology Center recently moved into new headquarters at 339 E. Liberty St., known as the Handicraft Building.
The collaboration came about from a chance meeting.
"I was at a fundraiser for The Ecology Center and bumped into one of the architects on the projects, Wayne Appleyard," explained John DeHoog, a professor in EMU's art department. "We had worked with him on a few projects here at Eastern. We got to talking and thought it would be cool to get my students working on the furniture side for the new Ecology Center."
The student team designed a series of modular L-shaped work stations for the large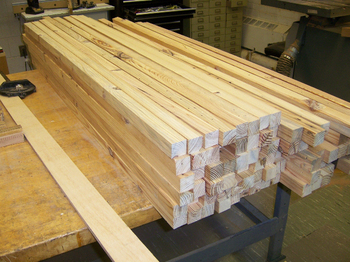 Courtesy of Eastern Michigan University | For AnnArbor.com
communal work area that serves about 12 people. It was made up primarily of a work surface, privacy screens, a pin-up bulletin board area, and designed for file cabinets to fit underneath the desk top.
In keeping with its mission, the Ecology Center wanted the furniture to be as "green" as possible with the goal to obtain a LEED rating for commercial-interiors for its portion of the building.
"LEED certification asks that you reuse as much material as possible from the space," said DeHoog.
They reused wood beams that were torn out of the Handicraft building during renovation, as well as old sprinkler pipes that they made into leg structures for the work stations.
Environmentally friendly glues, paints and topcoats were used. The topcoat was made from cheese whey and contained no volatile organic compounds.
DeHoog describes the finished workspace as "reclaimed modern."
"When reused materials are the primary material, oftentimes design work can be clunky or look rustic. We were trying to stay away from that. We wanted the interior of the office to look modern and clean while at the same time tell the story of where these materials came from."
DeHoog said the reused wood is douglas fir or possibly spruce—the typical building material used when the building was originally constructed-that has an orange color to it.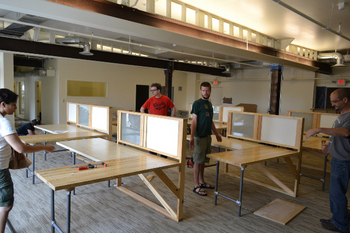 Courtesy of Eastern Michigan University | For AnnArbor.com
"The color is part of what I think is really great. It is an orange wood that has a real richness to it, with nail holes that we filled in, and a patina already built into it."
During the one-semester class that began last January, DeHoog and 12 students from his Introduction to Furniture Design class began by holding a few initial design sessions with the architects and Ecology Center staff. This was followed by the class putting together a variety of models that gradually were refined to the finished working model. Construction was finished in April and installed in late June.
In addition to the technical aspects of reassembling materials, DeHoog says this collaboration taught students how to work together as well as with a client.
"In this real world project there's a lot of balancing concerns as far as the needs of the client, material issues and making something that we think is beautiful as well."
DeHoog hopes to develop other collaborations each year in furniture design, which is a new concentration at the university.
The Ecology Center was happy with how the furniture turned out. "It's really functional, and with the adaptive reuse of materials, we're walking the walk of what the Ecology Center stands for," said Terry Gallagher, communication director at the Ecology Center.
"When we saw the raw material coming out of the space and then saw how it came back as furniture, it was just remarkable."