Posted on
Sat, Jun 15, 2013 : 5:58 a.m.
Eastern Michigan University professor to bike 450 miles around state to support student development
By Chelsea Hoedl
Eastern Michigan University part-time professor John Fike and his wife Bonita will spend their vacation this year raising money to help fund important life experiences for students.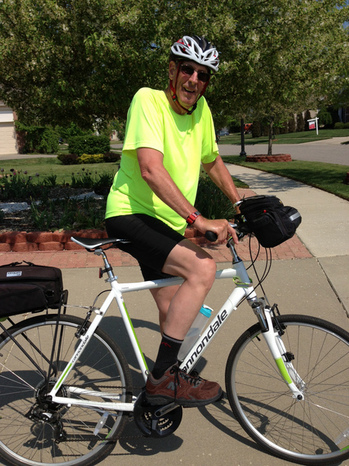 "This year we got to thinking about where we wanted to go," 70-year-old Fike said. "Bonita and I generally combine biking and vacation in the summer and we've biked some long distances. So I said let's extend it, make it something of a challenge and see if we can raise some money for scholarships. At first it was just this crazy idea but the more we thought about it and reflected on it the more we wanted to do it."
On June 29, Fike will bike 450 miles around Michigan in an attempt to raise $4,000 to help fund study abroad scholarships and help students start their fundraising careers by giving money to EMU's nonprofit leadership alliance program. Bonita will meet him at stopping points along the way with their car and supplies.
Starting in Lansing, Fike will travel through Battle Creek, Kalamazoo, South Haven, Grand Haven, Big Rapids, Mount Pleasant, Bay City and finally Lexington where he will complete the 450 miles. Fike plans to finish his journey by July 13 or 14, which means he will be traveling between 40 and 50 miles a day.
"We have set aside five days of no biking," Fike said. "In those five days we'll be doing a little touring around Battle Creek, South Haven and then a day up in Big Rapids visiting state parks. We'll take another day over in Bay City so we get to experience some tourism as well."
In return for Fike's long, winding bike ride across Michigan he asks those inspired by his journey to donate to one of two causes: study abroad scholarships or funding for the EMU nonprofit Leadership Alliance Program, which gives students real-life experience working in the field.
"I'm asking everyone to contribute to these two funds" Fike said. "I want people to know about the programs and I hope that the general public will have an interest in my trip, but more importantly the cause and that they will be interested in giving."
Fike boasts about the exciting group of students he taught winter semester as he explains why he's using his vacation time to bolster these two programs. He said he is inspired by his students because every one of them overcomes some sort of challenge to obtain their education.
"The best part about teaching at Eastern is being able to watch my students succeed even when they had to struggle to get there," Fike said. "Many of them are married and have full-time jobs on top of taking full-time classes. It's amazing to me to watch them balance it all and I want to support them any way I can."
The education system leaves graduates in debt and it shouldn't be that way, Fike said.
"So many students come out of their education now with so much debt, which is really one of the things that moves me to raise money," Fike said. "I'd like students to get these experiences without having so much debt to deal with because of it."
Students come back from studying in other countries with a stronger interest in what they're learning and this shows through in their work, Fike said. He said he wants to foster experiences like study abroad because they allow students to grow.
"When our students study in foreign countries they come back with new knowledge, but they also change as people," Fike said. "They're more focused and more mature. They are more well-rounded in their understand of what's going on around them and so one of the things I've been trying to support is students studying abroad."
One of the courses Fike teaches at Eastern is fundraising. He said he wants his students to have the opportunity to learn outside of the classroom, but this sort of experience requires funding.
"There are often frustrated students who go out for their first job and are passed over for those who have more real life experience," Fike said. "I want to be able to give them the experience to match their educational skills."
Fike has been training since March for the bike ride he hopes will raise funds for two programs he believes to be important in personal and educational development, he said. You can follow his trip on Twitter @EMUjohnfike. Donations to support study abroad or nonprofit management training can be made online.
Chelsea Hoedl is an intern reporter for AnnArbor.com. She can be reached at choedl@mlive.com.