Posted on
Fri, Aug 17, 2012 : 12:37 p.m.
Tentative agreement between EMU, professors' union includes annual 2 percent raises
By Amy Biolchini
Eastern Michigan University full-time unionized professors will get 2 percent annual salary increases over the next three years under a tentative agreement announced Friday.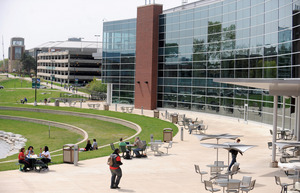 File photo
The EMU chapter of the
American Association of University Professors
' two-year contract with the university expires at midnight Aug. 31. The union has about 700 members.
"I appreciate the outstanding effort of both bargaining teams for their hard work and collaboration in reaching this agreement," according to a statement from EMU president Susan Martin. "Their work reflects our faculty's and administration's commitment to put students first and to ensure a great start to the new academic year."
The new, three-year contract would also include changes to the health care payments for the professors in the union, the university said in a news release. Further details were not released by the university or the union.
EMU has predicted healthcare costs will rise 8.5 percent annually, from $25 million in 2012 to nearly $32 million in 2015. In 2011, EMU paid $11,041 in insurance costs per employee. By 2012 that figure rose to $12,159. New plans proposed by EMU raise deductibles and shift some cost from the university to the employee.
"These negotiations were conducted in an atmosphere of mutual respect, with both sides committed to doing what was best for the university. The fact that we completed negotiations two weeks before the expiration of the contract is indicative of the cooperation that was present throughout the bargaining process," according to a statement from Susan Moeller, president of the EMU chapter of the AAUP.
Should the union approve the contract at its Sept. 5 meeting, EMU's Board of Regents would be able to finalize the agreement at its regular meeting Sept. 18.
Classes at EMU resume Sept. 5.
Professors will still be paid during the lag time between the old contract and the new contract, said EMU Vice President of Communications Walter Kraft.
EMU is also in the midst of contract negotiations with its clerical staff.
Amy Biolchini covers Washtenaw County, health and environmental issues for AnnArbor.com. Reach her at (734) 623-2552, amybiolchini@annarbor.com or on Twitter.