Posted on
Tue, Sep 4, 2012 : 2:53 p.m.
By the numbers: EMU sees 24 percent increase in registered freshmen
By Katrease Stafford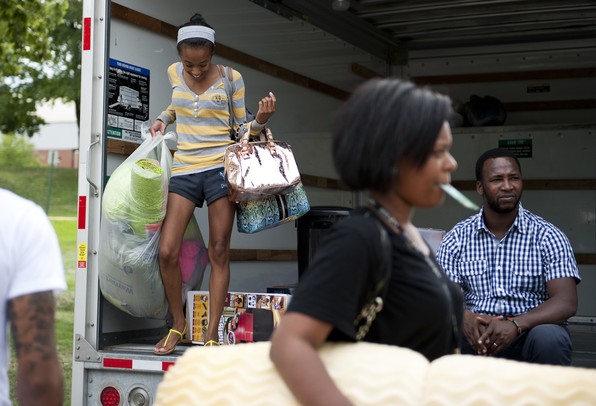 Daniel Brenner | AnnArbor.com
Eastern Michigan University is on track to have a record-setting enrollment year as students continue to register for fall classes.
With 2,572 registered freshmen, the university has seen a 24 percent increase, or a net gain of 454 students, in comparison with last year.
The university set a record in 2001 with 4,571 transfer students and freshman registered. The fall 2012 semester has broken that record with 4,892 registered.
Eastern Michigan University by the numbers:
More than 23,000 students altogether
18,447 undergraduate students as of Aug. 30
4,400 graduate students as of Sept. 4
2,100 transfer students
245,000 credit hours
44 percent increase in minority students
245,000 credit hours
2,100 transfer students
Nearly 1,000 international students
48 percent increase in students from Ohio
36 percent increase in students from other states
3,315 students living in residence halls
72 percent of freshmen live in residence halls
800 acres of main campus
18 miles of walkways and jogging trails
122 buildings on main campus
7 satellite locations throughout Michigan
More than 100,000 alumni
75 percent of alumni live and work in Michigan
EMU returns $42 to Michigan's economy for each $1 invested
"We're really excited," said Associate Vice President of Enrollment Management Kevin Kucera. "Every day it improves as more people return."
Kucera said most of the transfer students originate from Washtenaw Community College, Schoolcraft College and Henry Ford Community College.
The semester officially begins Wednesday, and students continue to sign up for classes. The university expects the numbers will continue to increase.
Kucera said while the quantity of students is increasing, the quality is as well.
"We're all excited about the gain in numbers but this class is also better prepared," Kucera said. "There's a 42 percent increase of freshmen coming to us with a 3.5 or higher. That's 728 this year compared to 512 last year."
Kucera said a number of factors can be contributed to the increase in students—specifically the TRUEMU marketing campaign.
"We did a really nice job of reaching out for that campaign," he said. "We worked hard on that message of affordability to our families that we've been able to instill. We really think our families are sensing the quality."
Katrease Stafford covers Ypsilanti for AnnArbor.com.Reach her at katreasestafford@annarbor.com or 734-623-2548 and follow her on twitter.