Posted on
Tue, Oct 18, 2011 : 7 p.m.
EMU's budget shortfall expands to $4.6 million
By Kellie Woodhouse
The budget shortfall at Eastern Michigan University is growing faster than expected.
EMU Chief Financial Officer John Lumm told the EMU Board of Regents on Tuesday that the shortfall, which was reported at $1.7 million at last month's regents' meeting, had ballooned to $4.6 million by Sept. 15.
When he first reported the shortfall at a Sept. 20 regents meeting, Lumm originally said the gap could grow to $5 or $6 million by the end of the fiscal year, which isn't until June 30, 2012.
The university is developing a plan to cut back costs and accommodate for the potential deficit, Lumm told the regents Tuesday .
"We have been working very hard to identify spending deferrals, cost saving actions… to close the gap," said Lumm. "We will be coming back to the board in December with specific recommendations on that."
Alhough officials at EMU projected an increase this year, 2011-2012 enrollment is down slightly, which leads to a $2.7 million shortfall in tuition and fees. The remaining $1.9 million deficit is the result of poorly performing investments, EMU officials said.
Despite the shortfalls, the university in fiscal 2012 is "tracking $300,000 ahead of the pace of last year" with contracts and grants.
Last year, EMU received $12.5 million in contracts.
Lumm seemed pleased with that figure during Tuesday's regents meeting, but regent Mike Morris did not.
Morris asked if the university had a target for contracts, and Lumm replied that it did not.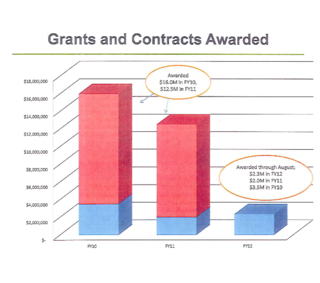 "I don't know if the $12.5 million is something we ought to say good job about," Morris said. "If you have no target, how do you know if you can hit it?"
Morris also suggested that EMU's finance office take another look at the school's investment portfolio.
EMU has $87.4 million in investments. About 37 percent of that amount —or $32 million— is cash or short-term investments. Another 17 pecent constitutes moderate-term investments and the remaining 46 percent is long-term investments.
Morris contended that the university should more heavily invest some of the money it has in cash and short-term investment, which have low return rates. He highlighted the University of Michigan and Michigan State University invest more aggressively and see greater returns.
"I don't know why we have so much money in cash and short term investments," Morris said.
The regents also discussed EMU's reliance on tuition dollars.
Kellie Woodhouse covers higher education for AnnArbor.com. Reach her at kelliewoodhouse@annarbor.com or 734-623-4602 and follow her on twitter.