Posted on
Sun, Mar 17, 2013 : 5:58 a.m.
Enbridge signs $1.3M deal to fix Washtenaw County roads damaged in pipeline construction
By Amy Biolchini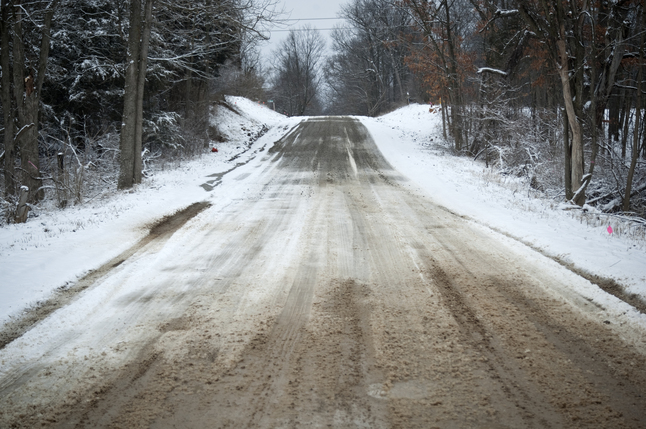 Joseph Tobianski | AnnArbor.com
The
Washtenaw County Road Commission
recently negotiated a $1.3 million agreement with
Enbridge Pipelines Toledo Inc.
for road repairs after the company's construction schedule for its
new crude oil pipeline
ran into seasonal weight restrictions on county roads.
The deal exempts Enbridge from adhering to seasonal weight restrictions by binding the company to fund the repair and reconstruction of the roads it is using -- the majority of which are in Lyndon Township in the northwest corner of Washtenaw County.
Construction of the new, $190 million Line 79 began in September. It runs parallel to an existing Enbridge crude oil pipe - Line 17. The company says the new pipeline is necessary to double the amount of crude oil it is carrying to the Marathon Petroleum Corporation's refinery in Detroit and the BP-Husky Refinery in Toledo.
The new pipeline will be operational as of April 1, said Jason Manshum, spokesman for Enbridge.
Enbridge began building the new line in Freedom Township near the Freedom junction, and moved northward towards the Stockbridge junction in Ingham County. The company's staging grounds for its work crews are on the west side of U.S. 23 just south of the exit for Whitmore Lake on the northern Washtenaw County line.
By the end of February, when the road commission implemented its seasonal weight restrictions on all its roads, Enbridge still had a considerable amount of construction left to do in Lyndon Township, said Roy Townsend, managing director of the road commission.
Under those weight restrictions, construction of Enbridge's pipeline would have been halted altogether.
In the interest of sticking to its construction schedule, Townsend said Enbridge pursued the agreement that came to a total of $1.3 million -- $200,000 of which is a security deposit that likely will be paid back to the company.
"For them, it was a business decision," Townsend said, noting the county has never negotiated an agreement like this before with a company.
The costs included in the agreement were compiled under the assumption that Enbridge would damage the gravel roads to the point they would need to be completely rebuilt, said Ken Schwartz, member of the road commission's board of trustees.
"We have similar agreements across the U.S.," Manshum said, explaining that the company works with local municipalities to repair roads. "Due to either higher traffic volumes or heavy equipment, we will work with a road commission to compensate or repair the roads, much like when we're on a certain parcel or property."
For about 10.6 miles of gravel roads in Lyndon Township that will be heavily used by Enbridge during its pipeline construction in March, Enbridge will pay the road commission $60,000 per mile for reconstruction with a $100,000 security deposit.
Those roads are:
Boyce Road between M-52 and Joslin Lake Road
Embury Road from North Territorial Road to Joslin Lake Road
Farnsworth Road from the Jackson County line to Boyce Road
Joslin Lake Road from the right-of-way crossing to North Territorial Road
Roepke Road from Bowdish Road to Boyce Road
Fourteen gravel roads totaling 25.8 miles will incur light use by Enbridge crews, for which the company will pay the road commission about $1,000 per mile. Enbridge also will pay the county $20,000 per mile for 24.6 miles of 10 paved roads in the county, with an additional $100,000 security deposit for the use of the roads.
Those roads are:
Baker Road between Jackson Road and the eastbound ramp to I-94
Dexter-Chelsea Road from the railroad crossing to Dancer Road
Fairway Drive from Stofer Road to Hayrake Hollow Road
Hakyrake Hollow Road from Riker Road to the right-of-way crossing
Island Lake Road from Lima Center Road to Dexter-Townhall
Jackson Road from Fletcher Road to Baker Road
North Territorial Road from M-52 to Madden Road
Pleasant Lake Road from M-52 to Schneider Road
Scio Church Road from M-52 to Guenther Road
Stofer Road from North Territorial Road to the right-of-way crossing
Reconstruction of the gravel roads will occur in the summer, though they will be patched before then, Townsend said. Per the agreement signed between Enbridge and the road commission, the road commission has six months after Enbridge has finished construction to fix the roadways.
Following construction, Enbridge will return only to the area to inspect both the new Line 79 and existing Line 17.
Enbridge follows federal regulations for inspecting all its pipelines, Manshum said.
Near what the industry calls "high-consequence areas," like bodies of water, pipelines are inspected every five years using a computer that's driven through the pipe and fully scans for cracks, dents and corrosion, Manshum said.
To do that kind of inspection, the computer device would have to be driven through the entire line, Manshum said.
An external, physical patrol of the line to check for potential hazards either by foot or by airplane is required 26 times per year.
"We do that primarily by aircraft patrols," Manshum said. "We also do that by foot and vehicle, and often times we exceed that."
Pressure in all of Enbridge's pipelines is monitored around-the-clock by a computerized control system that is able to immediately shut down the pipeline if there is an issue, Manshum said.
Amy Biolchini covers Washtenaw County, health and environmental issues for AnnArbor.com. Reach her at (734) 623-2552, amybiolchini@annarbor.com or on Twitter.