Posted on
Mon, Oct 24, 2011 : 2:39 p.m.
Did Delta jet dump fuel over Dexter as engine problem forced return to Metro airport?
By Cindy Heflin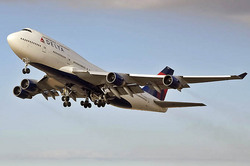 Delta photo
A
Delta
flight bound for Japan had to return to
Detroit Metro Airport
Sunday after the pilot discovered a problem in one of the engines and shut it down.
Delta Flight 275, which departed at 3:25 p.m. Sunday for Narita International Airport, landed safely just before 5 p.m., said Delta spokesman Anthony Black. No one was injured. Passengers were put on another flight that left this morning, Black said.
Thom Phillips, a Dexter area resident, said he saw the Delta jet dumping fuel Sunday afternoon as he was driving near the village on Dexter-Ann Arbor Road.
"It was pretty low, … and fuel was coming from the wingtips," he said.
Large white contrails were streaming from the plane, he said.
The 747 had to dump fuel before landing, Black said. The jet was carrying 392 passengers, Black told the Daily Press & Argus.
He said the jet was above the minimum height required for getting rid of fuel, which would have evaporated in the atmosphere. He did not know how much fuel the jetliner had to dump.
The jet is equipped to operate with three engines, Black said, but the pilot decided to return to the airport as a precaution, he said.