Posted on
Tue, Nov 30, 2010 : 2:27 p.m.
Environmental groups urge Senate to act swiftly to match federal high-speed rail grants
By Ryan J. Stanton
Michigan will send $161 million in federal high-speed rail funds back to Washington, D.C., if the state Senate doesn't take action to approve the required matching funds.
Two statewide environmental groups issued a statement today, urging senators to follow the lead of the state House and put up the $37 million needed to trigger the federal dollars.
That includes a $150 million federal grant for high-speed rail improvements along the Detroit-to-Chicago corridor, which Ann Arbor officials have been celebrating.
The Michigan League of Conservation Voters and Michigan Environmental Council are calling on residents to contact their senators and make their voices heard.
Awaiting the Senate's approval is House Bill 6484, which was passed by representatives on Nov. 10. It authorizes up to $100 million in state construction bonds, which would more than cover the $37 million federal match requirement.
Ann Arbor clearly has a lot at stake — its Amtrak station is the busiest stop between Detroit and Chicago. And Mayor John Hieftje has said the high-speed rail improvements also would make possible the proposed Ann Arbor-to-Detroit commuter rail service.
The Senate reconvened today.
"We're optimistic at this point," said Tim Fischer, deputy policy director with the Michigan Environmental Council. "Today is the first day that the Senate has had an opportunity to look at it, and the Senate has a lot on its plate. We're hopeful they'll come around and pass this so we can get going on these projects."
"Ann Arbor really is the center of these projects," Fischer added, noting that some of the remaining state bond money — after the $37 million match — could go toward the proposed Ann Arbor-to-Howell service line.
He also noted the bonding authority already exists.
"So the question is not whether we'll sell bonds, but what we'll sell bonds for," Fischer said.
He said if the state doesn't dedicate the money to rail projects, it'll just fund projects like airport hangars where the return on investment is "nominal at best."
The two environmental groups are asking residents in communities that are directly affected by the outcome of the vote — including Detroit, Dearborn, Kalamazoo, Ypsilanti and Ann Arbor — to call their senators this week. They said it's also important to contact Republican Senate Majority Leader Mike Bishop, who is responsible for calling the bill to the Senate floor.
Click here for senator contact information.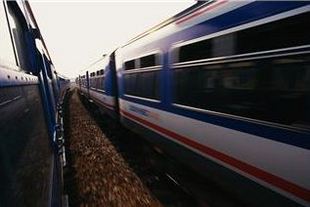 File photo
The bill already has the support of state Sen. Liz Brater, D-Ann Arbor.
Brater said she's hopeful the bill will be brought to the Senate floor for a vote before the current session is over, but it's hard to say. She said high-speed rail would be "a huge step forward for Michigan" with many spinoff benefits, including improved air quality and quality of life, and it would help limit urban sprawl.
"It's definitely an advantage," she said.
Local leaders say establishing regular rail service between Detroit, Dearborn, Ypsilanti and Ann Arbor is important, as Southeast Michigan is the only major metropolitan area in the U.S. without light or commuter rail.
"Michigan is a state built on transportation," Lisa Wozniak, the Ann Arbor-based LCV's executive director, said in a statement. "While automobiles remain important, especially next-generation vehicles like the Chevy Volt, our state also needs to invest in high-speed and commuter rail for the promise it holds. That includes a lower carbon footprint for our state and faster commutes that can spur tourism and job growth across Michigan."
The newly elected governors of Wisconsin and Ohio are refusing to accept almost $1.3 billion in federal high-speed rail grants. U.S. transportation officials are now making plans for the redistribution of those funds to states that will accept them.
Incoming New York governor Andrew Cuomo has said publicly his administration would gladly take the cash. Fischer said he's hoping to hear a similar statement from Michigan Gov.-elect Rick Snyder to demonstrate Michigan's interest to federal officials.
A spokesperson for Snyder's transition team could not be reached for comment today.
Ryan J. Stanton covers government and politics for AnnArbor.com. Reach him at ryanstanton@annarbor.com or 734-623-2529.