Posted on
Thu, Aug 22, 2013 : 9:48 a.m.
Equal pay advocate Lilly Ledbetter to give lecture at the University of Michigan
By Kellie Woodhouse
Lilly Ledbetter, an advocate for gender equality in the workplace, will give a lecture at the University of Michigan in October.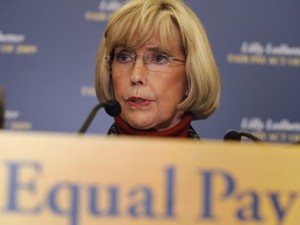 AP Photo
In her talk, Ledbetter will recount her story of discrimination at the
Goodyear Tire & Rubber Company
and the subsequent legal battle that resulted in the 2009 Lilly Ledbetter Fair Pay Act,
Barack Obama
's first piece of legislation as president.
Ledbetter discovered after working for Goodyear for 19 years that she was earning less than her male counterparts. She sued Goodyear for discrimination, and won in lower court. She lost on appeal and, eight years after she first sued, the U.S. Supreme Court ruled against her. The court said that she should have filed suit within 180 days of her first unequal paycheck, even though she did not know of the pay discrepancy at the time.
A question-and-answer period with the audience and a book signing of Ledbetter's book Grace and Grit: My Fight for Equal Pay and Fairness at Goodyear and Beyond will follow the lecture.
Her talk, cosponsored by the Institute for Research on Women and Gender and the women's studies department, is titled "Equal Work, Equal Pay," and is this year's installment of U-M's annual Vivian R. Shaw lecture. It will take place Oct. 2 at 7 p.m in Rackham Auditorium, at 915 E. Washington St.
Michigan is ranked 46th in the nation for wage parity, according to a U-M press release.
In 2010, the typical woman in Michigan working full-time, year-round, was paid $0.74 for every dollar paid to a man working full-time, year-round. This is $0.03 wider than the nationwide wage gap of $0.77, according to the National Women's Law Center.
Kellie Woodhouse covers higher education for AnnArbor.com. Reach her at kelliewoodhouse@annarbor.com or 734-623-4602 and follow her on twitter.