Posted on
Thu, Feb 11, 2010 : 6:05 a.m.
Error was made during 2003 sex offense conviction of Matthew Freeman, attorney claims in motion
By Lee Higgins
A paperwork error was made when a Pittsfield Township man was convicted in 2003 of having consensual sex with his underage high school girlfriend, his attorney contends in a new motion.
That error has had "significant consequences" for Matthew Freeman, particularly concerning his obligation to register under the "Sex Offender Registry Act and other statutory provisions," according to the motion filed Friday by attorney David Goldstein.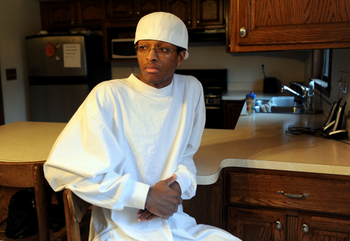 Goldstein filed a "motion to correct the record," the latest step in a legal battle that began after Freeman was criminally charged for living too close to a school as a registered sex offender.
Freeman, 23, is scheduled to appear in court on the school safety zone violation charge Friday. It's unclear how the motion on the original conviction could impact the latest case.
Freeman was charged last fall with a school safety zone residency violation that accuses him of illegally living within 1,000 feet of Carpenter Elementary School. If convicted of the misdemeanor charge, he faces up to a year in jail.
According to the motion, Freeman pleaded guilty to fourth-degree criminal sexual conduct on July 29, 2003, in front of 22nd Circuit Judge Donald Shelton.
Freeman was convicted of having sex with his girlfriend when he was 17 and she was 15. In Michigan, the legal age of consent is 16.
However, when the paperwork on the conviction was prepared, it read as though Freeman pleaded guilty to fourth-degree criminal sexual conduct involving force and/or coercion, the motion says.
The motion requests the record be corrected to "accurately reflect" that Freeman pleaded guilty to the section of the fourth-degree criminal sexual conduct statute relating to "statutory criminal sexual conduct, that is - sexual relations with a female under the age of 16." The motion is scheduled to be heard by Shelton on March 2.
It's unclear what subsection of the fourth-degree criminal sexual conduct statute Goldstein is referring to in the motion. One subsection deals with a victim of "at least 13 years of age but less than 16 years of age" and someone who is "five or more years older than that other person."
Goldstein could not be reached for comment.
Freeman's girlfriend's mother, Evelyn Scott, previously said she wanted to end the relationship and filed a complaint with Pittsfield Township police requesting Freeman be criminally charged. That complaint was filed 12 days after Freeman's 17th birthday.
Freeman was sentenced to probation in September 2003 and is no longer dating Scott's daughter. Scott recently wrote a letter on his behalf, asking that he be removed from the registry. As it stands, Freeman must remain on the registry until Aug. 17, 2028.
Washtenaw County Chief Deputy Assistant Prosecutor Steve Hiller declined to comment on the motion, saying he hasn't seen it.
Freeman's mother, Yolanda, said she's glad Goldstein is looking into her son's conviction.
"I don't know who prepared the paperwork," she said. "Somebody messed up. It's crazy how they can mess up like that. Seriously. It's bad enough he has to register as a sex offender as it is."
According to the motion and court records, Freeman and his attorney, Assistant Public Defender Gina Jacobs, reached a plea agreement with the Washtenaw County Prosecutor's Office in 2003.
Under the agreement, Freeman was to plead guilty to fourth-degree criminal sexual conduct, and the original third-degree criminal sexual conduct charge would be dismissed, the motion says.
During the plea hearing, then Assistant Prosecutor Lenore Ferber indicated a plea agreement had been reached, the motion says. She moved to amend the information to add a count of fourth-degree criminal sexual conduct. But in her recitation to the court, Ferber "did not specify a subsection of the statute to which the defendant would be entering his plea," the motion says.
The court questioned Freeman about "having sexual relations with a female who was under the age of 16," according to the motion.
"At no point did the court question the defendant regarding force and/or coercion nor did the defendant make any statement regarding force and/or coercion," the motion says.
In the motion, Goldstein is "recognizing that it was an error for this conviction to have been entered without there being any force or coercion," said Larry Dubin, a professor of law at University of Detroit Mercy.
"Under the court rules, you need an accurate plea...," Dubin said. "The prosecutor, in trying to give (Freeman) a break, perhaps created a conundrum that was not foreseen."
Lee Higgins covers crime and courts for AnnArbor.com. He can be reached by phone at (734) 623-2527 or by e-mail at leehiggins@annarbor.com.