Posted on
Tue, Nov 29, 2011 : 10:30 p.m.
Ex-Detroit Mayor Kwame Kilpatrick: 'They call me a thug and a criminal'
By Kellie Woodhouse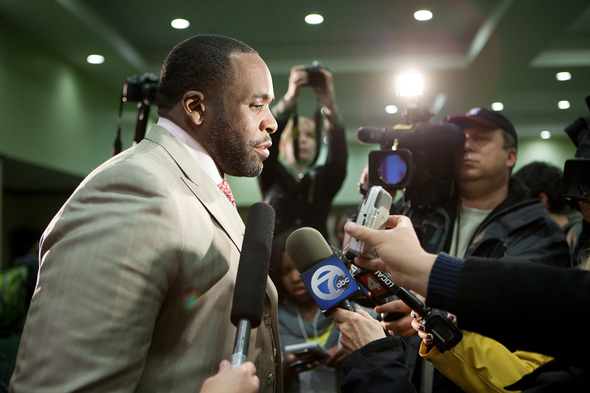 Chris Asadian I AnnArbor.com
It was one of his first public speaking appearances in
Michigan
since his release from prison for charges of lying and maliciously hiding money, but that was not mentioned in
Kwame Kilpatrick
's introduction at
Eastern Michigan University
.
Kilpatrick, the former Detroit mayor whose second term ended amids criminal charges and who is now facing federal corruption charges, was greeted by a standing ovation from hundreds during a speech he gave at EMU's student center on Tuesday.
Seven hundred people attended the controversial event. Some left early in protest, others gave Kilpatrick praise.
"I chose not to include (the scandal) because people already know the bad things, but no one ever knows the work that he put into being the successful mayor that he was," said Bernoris Carter, the member of Black Leaders Aspiring to Critical Knowledge, a student group that facilitated the event, who introduced Kilpatrick.
"He's human and the media can be very heckling… toward a person who has messed up."
Carter and other BLACK members invited Kilpatrick to campus to speak about second chances.
"They say your past is a first impression. The one thing I cannot and will not agree with is the philosophy that an action dictates who you are as an individual," EMU student Ivory Harris said before Kilpatrick spoke. "I believe mistakes should not be viewed as something that we can not recover from. "
In a booming voice, Kilpatrick, wearing a shimmering tan suit, light pink shirt and pink tie, spoke of redemption and the negative attention surrounding him.
"Redemption. Redeemed. Reconciled," Kilpatrick said, adding that he's been given "a ninth, tenth, maybe even twelfth" chance.
"It's important to note that while you're being redeemed you're also being a pioneer."
During his 75-minute talk, Kilpatrick acknowledged his affair with longtime aide Christine Beatty, but downplayed the charges he served 15 months in prison for, calling a Wayne County judge's order for Kilpatrick to pay $300,000 in 90 days "whimsical." He also dodged discussion of criminal acts he was and is currently charged with.
"You got to free yourself from people, you do," Kilpatrick said. "There's all kind of reasons to hate somebody. The difference between you and I is they broadcast (my indescretions) on TV to all the people who hate me."
He also told the crowd that he was a victim of overzealous and biased media coverage.
"I know I'm a hip hop mayor and they call me a thug and a criminal," he said. "Most of what you know about me is not me at all."
He added that he was blamed for things he had no part in.
"They're raising your tuition, but they got you mad at Kwame Kilpatrick, obviously that's my fault too," he said. "I know, I know, blame Kwame Kilpatrick."
Kilpatrick said he had forgiven himself for "lying about my affair."
"I'll definitely ask for your forgiveness, but forgiveness is for you," he said. "When I ask that in sheer humility, for your forgiveness, if you don't give it to me just know that I've already given it to myself."
He also spoke of the difficulty of being mayor, saying he "never enjoyed the job."
"It's a job that you constantly have to be engaged in, day in and day out. It's the toughest job in America," he said. "You ain't never black enough for black folks, you ain't never white enough for white folks."
During a press conference after his speech, Kilpatrick answered just two questions. He turned away from reporters and left after being asked about current charges of accepting a $10,000 bribe.
Kilpatrick's visit to EMU was not a university sponsored event, although university police did provide security during the talk. According to EMU spokesman Geoff Larcom, the group did not pay Kilpatrick a speaking fee but did cover his $400 airfare.
Kellie Woodhouse covers higher education for AnnArbor.com. Reach her at kelliewoodhouse@annarbor.com or 734-623-4602 and follow her on twitter.