Posted on
Tue, Jul 10, 2012 : 2:37 p.m.
Former Dexter football coach Tom Barbieri receives $10K, perks in settlement with district
By Pete Cunningham
Tom Barbieri won't be the head football coach at Dexter High School again, but he's not walking away empty-handed from the position from which he was fired in 2010.
The longtime coach received $10,500 and other perks as part of a settlement with Dexter Community Schools stemming from a grievance filed following his dismissal.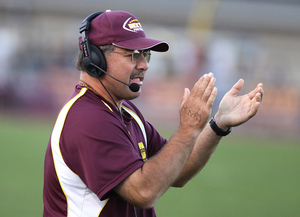 AnnArbor.com file photo
Per the settlement, neither school representatives or Barbieri are at liberty to discuss the details of the agreement, which AnnArbor.com obtained through a Freedom of Information Act request.
Barbieri -- who is also a physical education teacher at the high school -- was fired following the 2010 season and filed a grievance through the Dexter Education Association shortly thereafter, alleging wrongful dismissal. His case went to arbitration, but after just one meeting, both sides agreed to a settlement.
"Though I'm not at liberty to say much, I can say that a settlement was reached and that all parties seemed to agree that moving on was in everybody's interest," said DEA president Joe Romeo.
The settlement states that the agreement "does not amount to an admission of guilt" by the district" and requires that Barbieri drop the grievance.
In addition to payment, Barbieri will have his planning period moved to the last hour of the school day, which begins at 1:45 p.m., and will be permitted to leave school during that time "to attend to duties directly related to coaching football" at any school through the 2016-2017 school year. Barbieri is currently an assistant coach at Pioneer High School.
Barbieri is also not to be scheduled for any pre-school (before 7:51 a.m.) teaching duties during the five-year span and will be "entitled to use up to 20 school days for the purpose of attending coaching clinics or serving on the board of a football related state committee."
Barbieri, a member of the Michigan High School Football Coaches Association Hall of Fame who serves on its board, will be paid for the days off without it counting against his sick days.
Barbieri's Dexter teams were 30-60 in 10 years as head coach. He said he was paid more than $6,000 for his services in 2010.
He was dismissed after the 2010 season in which his team went 5-4, just the second winning season during his tenure. He was fired after former athletic director Scott Lucas deemed him "not acceptable" in nine of 15 evaluation categories, including planning and organization, enforcing individual and team discipline, involving assistant coaches in planning, and communicating with the athletic director.
Barbieri disputed all nine "not acceptable" ratings in his grievance and claimed proper protocol was not followed in his dismissal. The district denied the grievance in February 2011 and the settlement was reached in February 2012.
The 2009 and 2010 football coaching evaluations and the improvement plan written by Lucas' predecessor, John Robinson, were to be removed from Barbieri's personnel file per the agreement. Barbieri was also able to choose the person to do his teacher evaluations in the future.
Brian Baird replaced Barbieri for the 2011 season and Dexter went 3-6.
Barbieri was allowed to release a statement according to the agreement, in which he stated: "I am sad to no longer be coaching Dexter Football, but I will continue doing what I love doing and that is coaching football and working with young men and women. It is a great day to be a Dreadnaught."
Contact Pete Cunningham at petercunningham@annarbor.com or by phone at 734-623-2561. Follow him on Twitter @petcunningham.