Posted on
Mon, Oct 31, 2011 : 12:48 p.m.
Ex-University of Michigan Regent Deane Baker dies at age 86
By Paula Gardner
Deane Baker, a 24-year regent at the University of Michigan, died this month in California.
Baker is remembered for his career as a builder and his avocation for public service, including years as president of the Detroit Urban League, according to his family.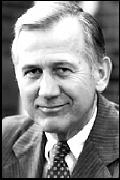 Courtesy of Baker family
Baker - whose local building projects included the Newport West condominiums in Ann Arbor - also is remembered as a conservative voice during his years as an elected regent.
He lost his first race to join U-M's governing body in 1970, but in 1972 won the election and remained a regent for 24 consecutive years.
According to his biography from the Bentley Historical Library, which has a collection of his papers: "In his time as Regent, Baker proved to be one of the most active, and also controversial members of the board, providing a dissenting conservative voice on the overwhelmingly Democratic board. He was involved in the selection of three University presidents, and helped to lead the University through major shifts in University operation and policy, such as the drafting of a new sexual orientation and discrimination policy, the decision as to whether to divest stock holdings with businesses doing business in South Africa before the fall of Apartheid, and the construction of the new University replacement hospital complex."
He ran twice as a Republican seeking a US Senate seat, in 1976 and 1982, and lost both races.
"He loved his country, wept when (John F. Kennedy) was shot, and thrived on Republican politics, state and national," according to his family in their printed obituary. "Even in defeat, election nights had the air of the World Series; the next day he would pick himself up, put on his suit and tie and go back to work."
Baker had suffered from Alzheimer's Disease in his later years. His wife, Marilyn, preceded him in death in April.
He's survived by three daughters and five grandchildren. In addition to his wife, he was preceded in death by his son in 2001.
A memorial service will be held at 3 p.m. Saturday, Dec. 3, at First Presbyterian Church of Ann Arbor.