Posted on
Tue, Jul 17, 2012 : 7:46 a.m.
Excessive heat warning issued for Ann Arbor; high of 105 possible
By Cindy Heflin
With record heat expected today, the National Weather Service has issued an excessive heat warning effective from 11 a.m. today until 11 p.m. tonight.
The high temperature this afternoon is expected to range anywhere from 98 to 105 degrees with a heat index between 103 and 110 expected.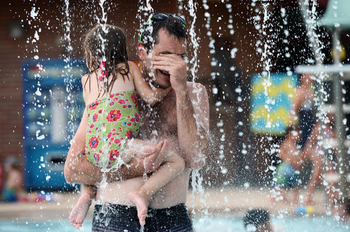 A high of 105 would tie the all-time high-temperature record in Ann Arbor, set July 24, 1934. The record high for July 17 is 98 set in 1988, said University of Michigan Weather observer
Dennis Kahlbaum
.
If the thermometer climbs above 100 degrees, it will mark the third time it has done so this summer.
The National Weather Service, which had earlier issued an excessive heat watch, warned residents that heat-related illnesses, such as heat stroke, heat exhaustion and dehydration are possible for those exposed to the high temperatures.
The weather service urged those who work or spend time outside to take these precautions:
Schedule strenuous activities for early morning or evening.
Know the signs and symptoms of heat exhaustion and heat stroke. Wear lightweight and loose-fitting clothing when possible.
Drink plenty of water.
When working outside, schedule frequent rest breaks in shaded or air-conditioned environments.
The weather service said anyone overcome by heat should be moved to a cool and shaded location. Heat stroke is an emergency, call 911.
Heat stroke warning signs may include:
Body temperature of 103°F or higher
Red, hot and dry skin (no sweating
Rapid, strong pulse
Throbbing headache
Dizziness
Nausea, confusion or unconsciousness
For more information on heat-related illness, visit www.ewashtenaw.org/heat
Scattered thunderstorms are possible after 6 p.m., the weather service said, and some of those storms could be severe.
Temperatures will moderate a bit Wednesday when the high is expected to be 90 degrees. Highs in the low 80s are expected Thursday and Friday.
For updated conditions and forecasts anytime, visit AnnArbor.com's weather page.