Excessive heat watch for Ann Arbor; high of 102 expected
Posted on Mon, Jul 16, 2012 : 5:18 p.m.
The Ann Arbor area is in for another day of 100-plus degree temperatures Tuesday, at least the third this year.
With the forecast now calling for a high of 102 degrees, the National Weather Service has issued an excessive heat watch in effect from Tuesday morning through Tuesday evening. The heat index, a combination of the temperature and relative humidity, could reach up to 107 degrees, the weather service said.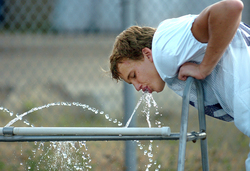 Heat-related illnesses such as heat stroke, heat exhaustion and dehydration will be possible, forecasters warned.
The weather service advised residents to drink plenty of fluids and stay in an air-conditioned room or stay out of the sun when possible.
Ann Arbor recorded temperatures of 100 or above on June 28 and July 7.
As the Ann Arbor Art Fair gets under way Wednesday, temperatures are expected to moderate, the weather service said, with highs in the 80s the rest of the week.
For updated conditions and forecasts anytime, visit AnnArbor.com's weather page.
Contact Cindy Heflin at 734-623-2572 or cindyheflin@annarbor.com or follow her on Twitter.