Posted on
Thu, Feb 21, 2013 : 5:59 a.m.
Endowment campaign considered to expand affordable housing services in Washtenaw County
By Amy Biolchini
The Washtenaw Housing Alliance is considering a campaign to raise money for a $17 million endowment that experts hope could end homelessness in Washtenaw County.
The endowment would provide long-term funding for new units of permanent supportive housing, a type of housing that includes services to keep homeless individuals on track.
The county already has 230 units of this type of housing. Julie Steiner, executive director of the Washtenaw Housing Alliance, said the county could end homelessness with the additional 500 units.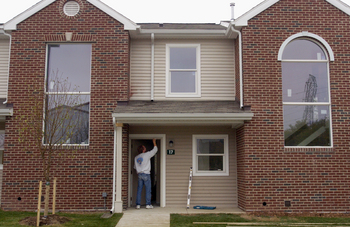 AnnArbor.com file photo
"We know what it takes to end homelessness. We know that this housing is critical," Steiner said.
More than 4,700 people in Washtenaw County experience homelessness each year, according to the Washtenaw Housing Alliance. A number of them are chronically homeless — and the only way to make sure those individuals stay in housing is through permanent supportive housing, Steiner said.
Funding the construction of affordable housing units is not the issue, Steiner said.
Permanent supportive housing requires support services from agencies. Funding for those services comes from government grants and programs — which Steiner said have become increasingly difficult to acquire.
Permanent supportive housing is provided by organizations like Avalon Housing, Steiner said. The housing is different from Section 8 vouchers with private landlords, Steiner said.
Steiner said the services help address underlying contributing factors to homelessness, such as mental health issues and recurring health problems. "You're meeting people with what their needs are," Steiner said.
It costs about $5,000 per year per household to provide the support services, Steiner said. It's also about six times cheaper to have homeless individuals in permanent supportive housing than in shelters, she said.
The Ann Arbor Community Foundation and the St. Joseph Mercy Health System have each contributed $1 million toward a Washtenaw Housing Alliance endowment for supportive housing.
The Washtenaw County Board of Commissioners founded the Sustainable Revenue for Supportive Housing Services Task Force in 2007 to find ways to permanently fund the expansion of those affordable housing services.
After a year, the task force came up with a three-part plan: Educate the public about the need, pass a millage and then create an endowment to sustain the revenue.
However, as the recession hit, passing a millage became less and less likely and it was never proposed, Steiner said.
"People were not going to increase their taxes for something like ending homelessness," Steiner said. "The notion of continuing to move forward with an endowment is still out there, but it's a very big dream and effort."
The Washtenaw Housing Alliance has hired the consultant firm Hammond and Associates to evaluate the relative success and potential structure of an endowment campaign, Washtenaw County Commissioner Felicia Brabec, D-Pittsfield Township, announced at a recent board meeting.
Brabec announced the $17 million figure as a possible amount for the endowment at the meeting, noting raising that money would be "quite the undertaking."
"The endowment is an important endeavor for our community in addressing homelessness in our area," Brabec said.
The exact details of what the $17 million would be able to accomplish is what the consultant will determine, Steiner said.
"This is not the normal kind of fundraising that's been done in this community," Steiner said in reference to the sizable $17 million figure. "We really have to move slow and make sure there's support."
Amy Biolchini covers Washtenaw County, health and environmental issues for AnnArbor.com. Reach her at (734) 623-2552, amybiolchini@annarbor.com or on Twitter.