Posted on
Mon, Aug 19, 2013 : 5:58 a.m.
Expect traffic pattern changes in late August when students move back to Ann Arbor
By Kellie Woodhouse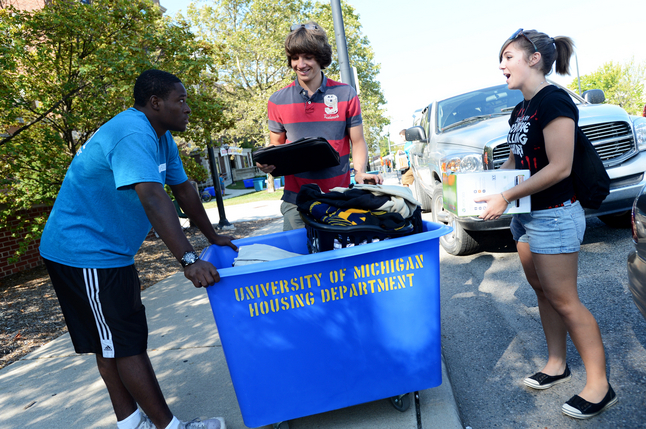 Ann Arbor has just begun to wind down from Art Fair and a summer filled with festivals, but it's winding up for a burst in population, traffic and business.
That's right: In two weeks students are coming back to Ann Arbor for another school year at the University of Michigan.
Say goodbye to actually being able to drive down State Street, say hello to long lines at the State Street coffee shops and do your best not to grumble when the Solo cups and beer pong tables abundantly line the streets of lower Burns Park.
Roughly 28,000 undergraduates and 15,500 graduates will take classes in Ann Arbor this fall and U-M expects 10,500 of them to live on campus. The majority of those students, with the help of their parents, move in during a three-day period beginning Aug. 28.
As students move in to their dorms, the city is changing some traffic patterns near campus. The changes go into effect 6 a.m. August 28 and stop 10 p.m. on August 30.
Here's a synopsis:
Thompson - one way southbound from East Jefferson to Packard
Madison - one way eastbound from South Division to South State
Observatory - one way southbound from East Ann to Geddes
East Washington - one way westbound from Fletcher to South State
Maynard - from Jefferson to East William - meters bagged
East University between Hill and Willard - meters bagged
Church Street between Hill and Willard - meters bagged
North University Court - meters bagged
Oxford - parking reserved for move-in from Hill to Geddes
Washington Heights - closed from Observatory to E. Medical Center Drive
East Ann - one-way eastbound from Zina Pitcher Place to Observatory
The university has agreed to pay the city $10,450 for occupancy of the public right-of-way during the move-in period. Soliciting in a one-block radius of the move-in site is prohibited.
The City Council approved the traffic pattern changes on Aug. 8.
U-M's Lawyer's Club graduate residence hall is reopening after a $39 million renovation this fall. Undergraduate dorm East Quad will also reopen after a yearlong $116 million renovation.
Crews will begin renovating the 1,180-bed South Quad this fall. The project will take a year and cost $60 million. U-M also wants to proceed as quickly as possible on building a state-of-the art 600-bed graduate student dormitory, which is predicted to cost $185 million.
Kellie Woodhouse covers higher education for AnnArbor.com. Reach her at kelliewoodhouse@annarbor.com or 734-623-4602 and follow her on twitter.