Posted on
Sat, Sep 3, 2011 : 6:05 p.m.
Extreme heat takes toll on fans at Michigan Stadium; HVA calls for assistance
By AnnArbor.com Staff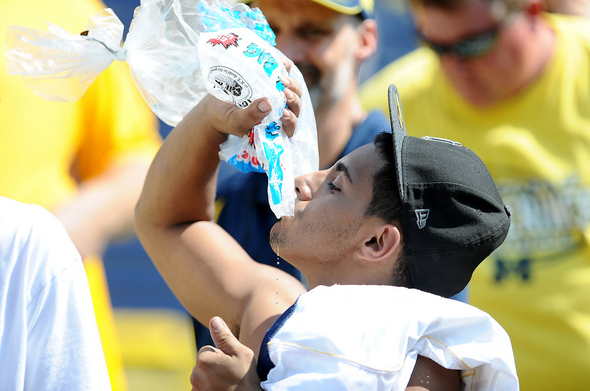 Melanie Maxwell | AnnArbor.com
With temperatures on the field reportedly reaching 120 degrees, the heat overwhelmed fans at Michigan Stadium. Huron Valley Ambulance says the high number of heat-related cases it handled caused it to call for backup from the Ann Arbor Fire Department.
HVA officials did not have information on the exact number of fans who were treated for heat-related concerns, but said it was unusually high.
"It's extremely busy at Michigan Stadium,'' said Terry Pappas, communications supervisor for HVA. "We have multiple heat-related incidents and the Ann Arbor Fire Department is helping.''
The temperature was 92 degrees at game time, and even after a cloudburst moved through Ann Arbor, forcing a 20-minute delay early in the third quarter of the game between Michigan and Western Michigan, temperatures remained in the 90s when the game resumed. The game was then postponed and then called off as another wave of storms moved into the area.
The first heavy rain, though brief, did provide on benefit — a spectacular rainbow over Michigan Stadium.
MGoBlog reported that 10 members of the WMU marching band were treated after being overcome by heat.
Connor Dean, a Michigan student working at one of the Absopure Hydration stations at the stadium, said his station had exhausted nearly its entire 450-gallon supply of water by halftime.
Dean said a hydration station would typically go through about 225 gallons of water for an entire game. "This is crazy for a normal game," Dean said.
Asked what the protocol is if the water ran out, he said, "We've never really been in a situation where we've run out, so we don't really know the protocol for that.''
Dean said he would likely call Absobure sales representative Bill Carbott in event of running out. Carbott told AnnArbor.com that he was was too busy to speak as he was working on restocking all the stations.
There are 7 Absopure Hydraftion stations around the stadium at which 8-oz. cups of water are given away for free.
Following the game, a spokeswoman for the U-M Department of Public Safety said she wasn't able to obtain any final figures on the number of people who received medical care at the stadium. "It was a very large number,'' said Diane Brown, adding that most of the cases were heat-related.
Ful the latest weather information, check the AnnArbor.com weather page.