Posted on
Sat, Jun 22, 2013 : 5:37 a.m.
Extreme 'supermoon' this weekend won't 'cause volcanoes to erupt' but may catch your eye
By Chelsea Hoedl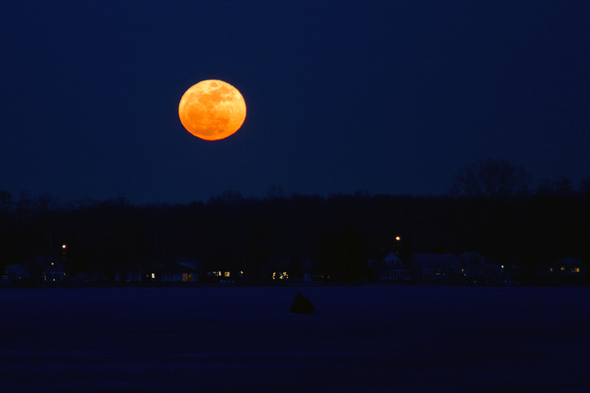 This weekend, stargazers will be able to enjoy a full moon at its lunar perigee, according to AccuWeather.com. That means the moon will be the closest it will get to the Earth this year and will appear 12 to 14 percent larger to viewers.
The moon is typically 384,400 kilometers away from the Earth, but Saturday and Sunday it will only be 356,991 kilometers away, making this weekend's full moon an 'extreme supermoon'. The moon is expected to be nearly full both Saturday and Sunday night.
A perigee and a full moon both occur at some point during every month, director of the Sherzer Observatory at Eastern Michigan University Norbert Vance said.
"It's a typical full moon," Vance said. "There's nothing unusual or un-ordinary. It's just coincidental that the moon is reaching full phase during this perigee point when it is closer to the earth."
According to Vance, 'supermoons' occur every few years and have happened millions of times in the history of the Earth.
"You won't be able to see it unless you're really looking," Vance said. "It's not going to overwhelm you or swallow up the Earth, but one of the neat things that people take for granted is that the moon is so low on the horizon, which also makes it look larger."
To those interested in appreciating the somewhat larger full moon this weekend, Vance recommends keeping in mind the subtlety of the change and grabbing a pair of binoculars.
"It's not going to cause the oceans to rise over the continents or cause volcanoes to erupt and it's nothing mystical, but this one will appear down low in the southern sky and may catch our attention while we're out and about," Vance said.
The best places for viewing the 'extreme supermoon' this weekend are the desert Southwest and the lower Ohio Valley into the mid-Atlantic and southern New England, according to AccuWeather.com.
According to the National Weather Service, the Ann Arbor area will be mostly cloudy on Saturday night and partly cloudy on Sunday night. The clouds may make it difficult to fully appreciate the 'extreme supermoon'.
Chelsea Hoedl is an intern reporter for AnnArbor.com. She can be reached at choedl@mlive.com.