Posted on
Thu, Dec 2, 2010 : 6:04 a.m.
Elimination of bulk leaf pick-up has Ann Arbor residents bagging leaves, composting this fall
By Heather Lockwood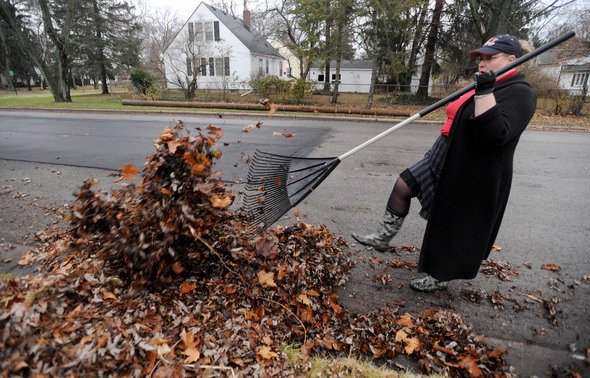 Angela J. Cesere | AnnArbor.com
Charlotte "Kitsy" Eaton of Ann Arbor is frustrated by the city's new leaf management options.
"Nothing's as good as the old way," Eaton said. "What it used to be is we would rake our leaves into the street twice a year, and that was it."
No more. With the city's cancellation of bulk leaf pickup this year, Ann Arbor residents are left to deal with fallen leaves themselves.

In place of the semi-annual bulk leaf pick-up is weekly residential compost pick-ups through Dec. 10. And rather than put their leaves in paper bags or compost carts at the curb, residents are encouraged to mulch leaves into their yards, said Tom McMurtrie, solid waste coordinator.
The decision to cancel the bulk leaf pick-up, along with other measures, was intended to help balance the city's budget.
Eaton raked up the remaining leaves in her front yard on Monday afternoon — it would be the last time she expected to rake this season. She said she goes out for about 30 minutes at a time, taking breaks between.
"I'm 84 years old for God's sake," she said. "I have one huge maple in the front that belongs to the city because it sits on the curb, and I have another huge maple in the back and that belongs to my neighbor."
To make matters worse, Eaton said leaves left sitting in a neighbor's yard were blown into hers during a recent storm, adding to her workload.
Before raking Monday, Eaton estimated she had invested about six to eight hours removing leaves from her front yard this fall. A tenant who lives in her home is responsible for raking the backyard, she said.
Eaton said she recently spoke with a few neighbors who were unaware of the changes in leaf removal and had been planning to rake their leaves into the street as usual until she told them otherwise.
While residents are responsible for the leaves in their yards, leaves that naturally fall into the streets are to be taken care of by street sweeping efforts. But piles of leaves left in the streets will not be removed.
McMurtrie said he's received mixed reactions from residents about the changes.
"I've received a variety of feedback. There are some people who don't like the new system. … I've also had some people say they find it more convenient because they can put the materials out on a weekly basis," he said.
McMurtrie said residents who don't mulch their leaves at home have two options for pick-up — put the leaves at the curb in a wheeled compost cart, available for $50 at the Ann Arbor Customer Service Center, 220 E. Huron St., or put them in paper bags, which can be bought at home improvement stores. They also can drop leaves off at the Compost Center, 4150 Platt Road, from 8 a.m. to 4 p.m. Monday through Friday.
Eaton noted an unexpected problem with the bags — she saw several paper bags full of leaves that had been left on curbs and split open after being soaked by rain, spilling their contents back onto the ground.
Caitlin Phillips of Ann Arbor said the leaves that have fallen into her yard this season from the maple and elm trees that line her street have filled more than 200 bags.
"I live in, literally, one of the most tree-lined streets in town," Phillips said. "It's been an interesting fall without the pickup."
Phillips estimated she has spent at least 35 hours raking and bagging leaves this fall — and her work isn't done yet.
Nor is it limited to her own yard.
Phillips said the young and able in her neighborhood have raked and bagged leaves from the yards of those who are unable to do so.
"The able neighbors on the street are helping those who are not able every other day," she said.
And, Phillips said, she and her neighbors are constantly forced to pull leaves from storm drains.
John Dugan of Ann Arbor said while he somewhat prefers the old system, he's neutral on the issue.
"I don't think it's a get-out-and-demonstrate issue," Dugan said. "From the leaf-raker's point of view, it's a little more inconvenient."
Dugan said he rakes his own leaves and composted some of them. He said he relied on the one compost container he received free from the city and had to buy several paper bags to hold the rest of his leaves.
"We were a little bit concerned because we had to use bags — we were not able to handle all the leaves with the cart — so that was an inconvenience. A little bit extra cost," he said.
From Jan. 1 to Nov. 8, the city collected 5,791 tons of yard waste and leaves, down from 6,294 tons collected during the same time last year, McMurtrie said. And the difference could be due, in part, to more people mulching leaves at home. But leaf and grass production varies year-to-year, which also could be a factor, he said.
Phillips said she plans to avoid the hassle next year by composting all of her leaves at home.
"We're just going to have to find a new solution," she said.
Heather Lockwood is a reporter for AnnArbor.com. Reach her at heatherlockwood@annarbor.com or follow her on Twitter.