Posted on
Mon, May 27, 2013 : 9:40 a.m.
Family displaced, 1 firefighter injured in blaze at attached condo unit
By Sven Gustafson
A fire early Monday at a condominium development displaced residents of two attached units and caused extensive damage, the Ann Arbor Fire Department said. One firefighter was injured at the scene but was treated and released from the hospital.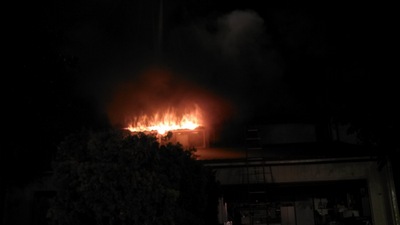 Photo courtesy Ann Arbor Fire Department
Firefighters responded to a 1:55 a.m. call about a fire at a 2-unit condo building on the 400 block of Village Oaks Court. The caller told dispatchers the whole rear of the unit was on fire.
The first crew to arrive found heavy flames in one condo spreading to the other attached unit. All inhabitants had evacuated the building.
Battalion Chief Steven Lowe in a news release said firefighters were able to quickly control heavy fire and stop the threat of it spreading. Two other units on either side of the burned unit reported smoke damage, he said.
Fire investigators were focusing on a fire pit on the back deck of one of the units.
The Washtenaw-Lenawee County Chapter of the American Red Cross said it provided a family of four with food and lodging, as well as beverages and snacks for about 30 first responders.
The injured firefighter was checked at the University of Michigan Hospital and released.
Firefighters from several other municipalities assisted at the scene.