Posted on
Wed, Jan 13, 2010 : 8 p.m.
Fate of Haitian nursing school with Ann Arbor ties uncertain after quake
By Juliana Keeping
The fate of a nursing school in Haiti that is connected to an Ann Arbor church remained uncertain late Wednesday in the wake of the 7.0-magnitude earthquake that devastated the poorest nation in the Western Hemisphere the previous day.
The professional nursing school, Faculty of Nursing Science of the Episcopal University of Haiti, is 20 miles west of Port-au-Prince and 10 miles west of the epicenter of the quake, in the town of Leogane.
Ann Arbor resident Ruth Barnard, a University of Michigan associate professor emeritus of nursing, co-founded the school with the support of her church, the First Presbyterian Church of Ann Arbor, and a nearby Haitian hospital four years ago.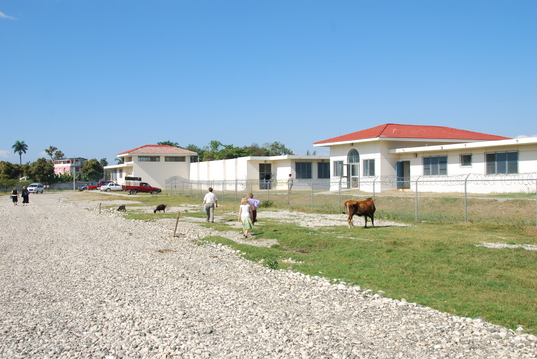 Photo courtesy of Haiti Nursing Foundation
The school's campus includes 2 dormitories, a cafeteria and a library. Barnard feels more confident about the safety of the students there because the school was built on reinforced concrete to the specifications of U.S. Agency of International Development.
"There are reports that estimate 100,000 are killed. I wouldn't be surprised if there are more," Barnard said.
Many of the people who live in Port-au-Prince have very little and buildings are often made by stacking concrete - without steel rods to reinforce them - and could easily be shaken down, she said.
The school began in 2005 with a class of 36. There are 127 students currently enrolled, and 4 men and 22 women have been awarded bachelor of science degrees in nursing - the first Haitians to earn a 4-year BSN in their own country. There has been no word yet from students or staff following the quake.
Haiti has a severe nursing shortage; there are only about 11 nurses for every 100,000 residents, according to Barnard.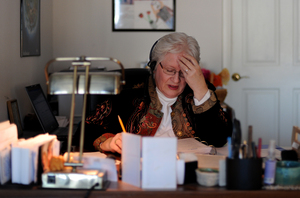 Ypsilanti resident Marcia Lane, the executive director of the local foundation that helps to fund the school, said Wednesday she has been receiving conflicting reports about its state all day.
The Haiti Nursing Foundation helps to provide a quarter of the school's $360,000 operating costs, tuition and other expenses.
Lane operates the foundation from a desk in a home basement. The foundation's cell phone and Lane's personal cell ran out of batteries by the end of the day Wednesday, so she switched to a home line. HNF received a steady stream of e-mails looking for information or ways to help.
"We haven't heard anything," Lane said. "I'm putting together the bits and pieces of news that we do have, but at this point there is very little of it that we can trust. The ways we should be able to get through are not working, which is of course, a bad sign."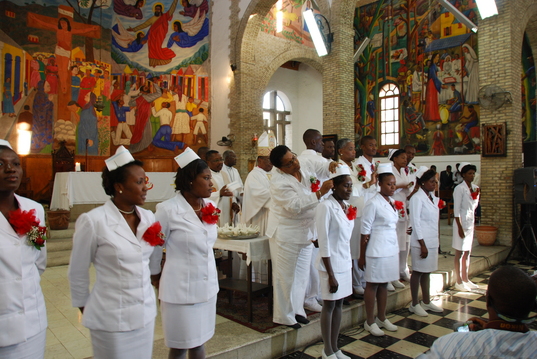 Photo courtesy of Haiti Nursing Foundation
As Lane, Barnard and others connected to the school wait for news, a Presbyterian church from Indianapolis cut the foundation a $10,000 check Wednesday afternoon.
There are Americans connected with the school in the country. An HNF board member and her husband arrived at Port-au-Prince at 4 p.m. Tuesday with a nurse from Montana to meet other U.S. medical faculty there.
After a day of uncertainty, a family member called Lane to say the whole party was alive and had made it to a hotel in Port-au-Prince. The couple is a doctor and nurse pair for Pennsylvania, she said.
"That's the first good news I heard all day," Lane said.
The 16-member foundation board includes 7 members are from Ann Arbor and one from Okemos, but none besides the Pennsylvanians were in Haiti Tuesday when the quake hit, she said. The board held an emergency teleconference to determine the best way to help Wednesday evening.
"Relief efforts are going to be complicated by the fact there will be no readily available food and water or transportation," said Lane, who has visited the country. "All of that is difficult anyway, and now it's ground to a halt."
She said she's been directing those interested in the relief effort to the American Red Cross.
First Presbyterian also sends two medical missions to the area each year, Lane said, but no one was in the country Tuesday.
Deb Hutton, chairwoman of the Haiti Medical Mission Task Force at the church, said it was a tense day of waiting and fielding both emails and phone calls on Wednesday
About 7 to 9 people from the church travel to Haiti during each trip to head into nearby villages to offer urgent medical services to people there. So far, group members are still waiting to hear word from many of their contacts to hear it they are OK, Hutton said.
"We see these people every time we go back. They live there. It's going to be devastating for us; we're anxious to hear from them because these are people we care about."
With so much interest in helping people down in Haiti, Hutton said the challenge is waiting for word about what their Haitian friends actually need.
The church will hold a prayer service at 7 p.m. at 1432 Washtenaw Avenue in Ann Arbor, to pray for those impacted by the earthquake. The church will also accept donations for efforts to help people in Haiti, she said. Those donating checks are asked to make the checks out to the First Presbyterian Church and write "Haiti Earthquake Relief" on the memo line.
Those looking to donate to the Haiti Nursing Foundation can do so online.
Juliana Keeping covers higher education for AnnArbor.com. Reach her at julianakeeping@annarbor.com or 734-623-2528. Follow Juliana Keeping on Twitter
Tina Reed contributed to this report.