Posted on
Tue, May 29, 2012 : 8:04 p.m.
Federal lawmakers chime in on challenges and opportunities in Detroit
By Ryan J. Stanton
MACKINAC ISLAND — A regional economic recovery hinges on making the streets of Detroit safer, U.S. Rep. Hansen Clarke said Tuesday night.
"Regardless of all the tax incentives you provide a business, no business wants to locate in an area where they're getting broken into," he said. "No family wants to live in a neighborhood where they fear being car-jacked. We must address the issue of safety."
When Detroit is perceived as dangerous, Clark said, it deters investment in surrounding communities.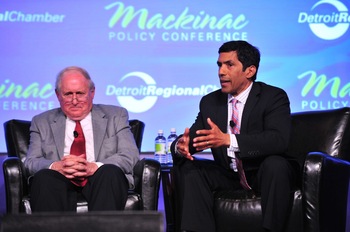 Ryan J. Stanton | AnnArbor.com
Clarke and U.S. Sen.
Carl Levin
, both Democrats from Detroit, shared the stage during a panel discussion as part of the Detroit Regional Chamber's annual
Mackinac Policy Conference
.
Several hundred business leaders, politicians, nonprofit executives and educators, including many from Ann Arbor, are on hand for the three-day conference on Mackinac Island.
Both men said the view of Detroit is changing, but challenges remain.
"As a matter of fact, that's been my mission in being in Congress — to enhance the image of the city of Detroit so that Congress and other private investors could see this as a good place to put their money," Clarke said.
Levin, 77, said he and his wife have lived in Detroit their whole lives, and some "really great things" are happening right now.
"Something's happening in Detroit that's big," he said, noting many young people are moving into Detroit. "We live downtown so we know."
"Detroit is a good brand," Clarke added, pointing to the busiest international border crossing in North America and the city's manufacturing capability.
"I mean, look at Chrysler," he said. "They market their cars by associating it with the grittiness and toughness of the city of Detroit."
Levin and Clarke both mentioned the M-1 rail project, which will run along Woodward from downtown Detroit to New Center.
"We need the M-1 rail," Clarke said. "That M-1 rail project could be the anchor to a regional transit system. Collectively over the past few generations, we've been seeking that for 50 years. This is the time that we have to be decisive to fund this M-1 rail project, because once those rails go into the ground, that's a signal to investors."
Levin and Clarke said job training programs and education also have an important role to play in Detroit's turnaround.
But Republicans in Congress are working against that, Levin said, urging everyone to compare the budgets being offered by the Republicans to the president's budget.
"If you decide education is important, if you decide job training and retraining is important … make your own comparison on those budgets," he said.
Levin said there is a whole new set of members of Congress who think compromise is a dirty word, and that's an obstacle that must be overcome.
"We've done a lot of cuts in spending already, about $700 billion. We've done nothing on the revenue side yet, nothing on the entitlement side yet," he said. "We're going to have to come up with a grand bargain where we're going to do some more deficit reduction."
The Republicans turned down a proposal by the president that called for $4 in spending cuts for every $1 in new revenue, Levin said.
"The Republicans have drawn a line in the sand. No additional revenues," he said. "We cannot reach a deal, we cannot have deficit reduction, we cannot avoid those draconian cuts — the type that you're talking about, job training and education — unless the Republicans get off that ideologically driven, absolute position of no additional revenues."
Clarke, 55, talked about growing up in Detroit.
"Look, I'm from the streets," he said. "I'm born and raised in Detroit. I'm from a tough neighborhood. I saw a man murdered in front of me when I was 9 years old. The next year I saw my businesses looted and burnt down to the ground when Detroit rebelled."
Clarke said what he learned from everything he's experienced is that young people need to value education, and that can keep them off the streets.
"We need to keep them in school, extend the school day, the school year, require them to learn how to read," he said. "Virtually half of Detroiters are functionally illiterate. Nearly 70 percent of the males in Detroit Public Schools drop out of school. This is outrageous."
Clarke said a cultural change around literacy is needed, one that will instill the value of education not just in young people but also their parents.
"The reason why our young people are not going to school to learn and read is because many times their parents don't know how to read," he said.
Ryan J. Stanton covers government and politics for AnnArbor.com. Reach him at ryanstanton@annarbor.com or 734-623-2529. You also can follow him on Twitter or subscribe to AnnArbor.com's email newsletters.