Posted on
Sat, Feb 25, 2012 : 5:59 a.m.
Fifth Avenue could reopen in May as underground parking project nears completion
By Ryan J. Stanton
As construction continues on the city's $50 million underground parking structure in downtown Ann Arbor, officials now say South Fifth Avenue should reopen by the end of May.
A previous time line called for reopening the street two months ago.
The entire project, which started in late 2009 and is being overseen by the Downtown Development Authority, is expected to be complete by the middle of July. It will bring about 700 parking spaces to downtown when it opens just in time for the Ann Arbor Art Fair.
A construction worker on site said crews are working to meet an April 1 goal of having all of the concrete work done. They were pouring interior walls on Friday afternoon.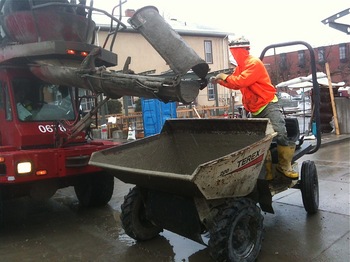 Ryan J. Stanton | AnnArbor.com
In response to a
guest column on AnnArbor.com by guitar shop owner Herb David
, who says the city should help businesses hurt by the ongoing construction, DDA Director
Susan Pollay
provided a list to city officials explaining steps already taken to help nearby businesses.
In addition to the Herb David Guitar Studio, the owners of Jerusalem Garden and Earthen Jar, two nearby restaurants, have complained about the project.
Pollay said the DDA has tried to assist the businesses in every way possible to help lessen the impacts of the adjacent project.
She said those efforts include the following:
Adding about two dozen new parking spaces near their businesses on Liberty and Fifth to provide added convenient parking for their customers.
Adding bike hoops and lighting, plus attractive streetscape improvements, in front of their businesses to make their storefronts more attractive.
Providing parking validations for their customers so they can park for free. The current value of those validation stickers is about $5,000.
Providing free monthly parking for the employees of Jerusalem Garden and Earthen Jar for the past two years, about a $10,000 value.
Providing free parking for Jerusalem Garden's catering truck.
Paying for three Jerusalem Garden parking tickets when owner Ali Ramlawi violated the "no parking 6 a.m. to 10 a.m." rule at the Fourth and William surface lot.
Paying to provide a private dumpster for Jerusalem Garden for several weeks, and paying to have it emptied.
In addition, Pollay said, the DDA and Christman, the main contractor on the project, have purchased catering from the two restaurants on several occasions, and the DDA purchased several dozen gift certificates to distribute to adjacent neighbors. Christman also has paid to plow the road in front of Jerusalem Garden and Earthen Jar for the past two winters.
Pollay said the DDA made special accommodations so Herb David could tap into the new sanitary lead the DDA installed on Fifth Avenue, which reduced his costs by a huge amount.
She said there also is extensive signage indicating the businesses along Fifth Avenue are open during construction. She said it should be noted that at no time during construction has customer access to the businesses been obstructed by the project.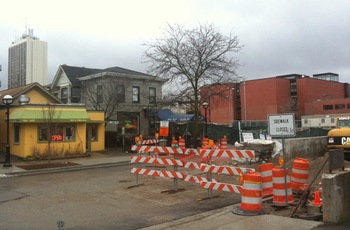 Ryan J. Stanton | AnnArbor.com
Ironically, Pollay said, it was Herb David's roof replacement last summer that created the only sidewalk obstruction to Jerusalem Garden and Earthen Jar for several days.
David said whatever Pollay is saying is perhaps politically correct, but not correct in reality. He said his business and other downtown businesses are suffering because of the project.
"Ask the people who have gone out of business in the last few months how bad it is down here," David said. "Business is down 40 percent because of the project."
David said being told that the street might reopen in May and the project might be finished in July isn't comforting.
"The comforting part is when it is done," he said, pointing out the city still hasn't figured out what will be built atop the underground garage when it's done.
Meanwhile, the Ann Arbor Transportation Authority is planning to demolish and rebuild the Blake Transit Center across from the underground parking structure this year. And library officials are having conversations about the future of the downtown library on Fifth Avenue. Then there are talks about development on the old YMCA lot across the street.
Considering all of that, David fears Fifth Avenue might look like a war zone for years to come, and he believes that could mean the death of more independent retail shops.
"We're going from the retail to the franchise," he said. "So it's a franchise area now. All the mom and pop small businesses are going out of business.
"What the city needs to do is take responsibility for the problems they cause," said David, who is asking for a tax break. "Why not give a tax break to the people who built the downtown?"
Ryan J. Stanton covers government and politics for AnnArbor.com. Reach him at ryanstanton@annarbor.com or 734-623-2529. You also can follow him on Twitter or subscribe to AnnArbor.com's email newsletters.