Posted on
Thu, Aug 2, 2012 : 2:02 p.m.
Fighting Super PACs: Dingell introduces campaign finance reforms to curb excessive election spending
By Ryan J. Stanton
U.S. Rep. John Dingell and a coalition of Democratic lawmakers on Thursday introduced campaign finance reform legislation aimed at curbing excessive election expenditures.
The Restoring Confidence in Our Democracy Act, which is Dingell's answer to Citizens United, would prohibit corporations and unions from making independent expenditures and subjects Super PACs to the same restrictions as regular PACs, including a $5,000 contribution limit.
"Citizens United is one of the most destructive Supreme Court decisions in our nation's history," Dingell, D-Dearborn, said in a statement.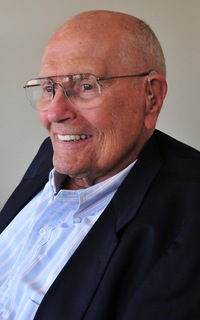 Ryan J. Stanton | AnnArbor.com
Even worse, Dingell said, the decision completely ignored the factual record and congressional intent when it overturned key provisions of
McCain-Feingold
.
"Since that time, we have seen an explosion in spending and the emergence of Super PACs, which allow billionaires to funnel unlimited amounts of money to influence our elections," he said.
Dingell, who has raised more than $1 million for his re-election campaign this year, said that fundamentally threatens the nation's democratic system of government.
"My legislation establishes the factual record which details the negative effects of increased spending in our elections," he said. "Hopefully the court will heed the facts this time around."
Other co-sponsors of the legislation include John Conyers Jr., Carolyn Maloney, Robert Andrews, Diana DeGette, Jim McGovern, Robert Brady, Chris Van Hollen, Keith Ellison, Donna F. Edwards and Barney Frank. It also has been endorsed by Common Cause and the UAW.
"Citizens United is, apart from Bush v. Gore, the most misguided Supreme Court decision of the modern era," Conyers said in a statement. "The free flow of secret money into campaigns directly undermines the public trust. I am proud to support the Dingell bill, which goes a long way towards restoring the integrity of our election system."
Dingell told AnnArbor.com in an interview earlier this week he's expecting this to be the ugliest election year in the history of the United States.
"It's going to be, I think, the dirtiest, nastiest, election in history," he said. "Second, it is going to be the most expensive election in history. It's probably going to cost more than $2 billion and I can't tell you how much more because of the Citizens United case, which is not only going to permit almost unlimited expenditures, but which will also allow the hiding of the names of people who contribute."
Ryan J. Stanton covers government and politics for AnnArbor.com. Reach him at ryanstanton@annarbor.com or 734-623-2529. You also can follow him on Twitter or subscribe to AnnArbor.com's email newsletters.