Posted on
Mon, Nov 5, 2012 : 5:35 p.m.
Democrats and Republicans push to get out the vote in final hours before Tuesday's election
By Ryan J. Stanton
In the final hours before Tuesday's election, both Democrats and Republicans are pounding the pavement in the Ann Arbor area to get out the vote for their candidates.
The parties are reaching out to voters in various ways, and in some cases employing creative tactics. For instance, the Democrats have chalked the University of Michigan campus, making the block "M" on the Diag the center of two intersecting words: "Obama" and "Democrat."
Meanwhile, Republicans are preparing to welcome Matt Romney and Josh Romney, two sons of Republican presidential candidate Mitt Romney, Monday night at Romney's Ann Arbor campaign office where they're expected to rally a crowd including University of Michigan students.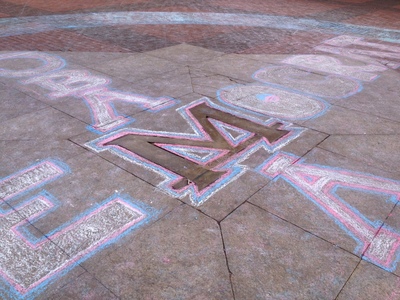 Ryan J. Stanton | AnnArbor.com
"We have a ton of students there," said
Kelsey Knight
, Michigan spokesperson for the Romney campaign. "These kids are concerned about their future."
Knight said there are about 8,000 supporters making phone calls for Romney in Michigan and the Ann Arbor office has been one of the most productive call centers. She said they're stressing Romney's business background and criticizing Barack Obama's record on job creation.
"The message is that we can't afford four more years of this. At the end of the day, social issues aside, it's about the economy," she said.
The Obama campaign says it has built the largest grassroots campaign in Michigan history and is spending the final days reaching out to voters in every corner of the state.
Former Michigan football player and NFL pro Cato June made a campaign stop at the Obama campaign's Ann Arbor offices over the weekend, along with Organizing for America senior advisor Broderick Johnson. They're trying to get out the vote for Democrats up and down the ballot.
Mike Henry, co-chair of the Ann Arbor Democratic Party, said the Democrats have more than 1,000 volunteers in Ann Arbor who are out knocking on doors, dropping campaign literature and making phone calls in the final hours before the election.
He said the Democrats are investing most of their energy locally in helping out Saline Mayor Gretchen Driskell, who is in a tight race as she tries to unseat state Rep. Mark Ouimet, R-Scio Township, and Carol Kuhnke, who is taking on Jim Fink in a hotly contested judicial race.
Robo calls have been going out in western Washtenaw County featuring U.S. Rep. John Dingell asking voters to support Driskell over Ouimet.
Henry said local Democrats also are working hard to get the word out about U-M law professor Bridget Mary McCormack, who is running for Michigan Supreme Court. Other than that, he said, many Democrats are out supporting the public art millage on the ballot in Ann Arbor.
Washtenaw County GOP Chairman John Taylor, who also is the organizer of the Western Washtenaw Tea Party, could not be reached for comment.
The College Democrats at U-M are holding an election eve rally on campus with U.S. Sen. Debbie Stabenow, Dingell and other elected officials to get students excited about the election.
"We have worked very hard this semester," said Chair Alexandra Brill. "With the election eve rally, we get to see the culmination of a crescendo of work, and will send College Democrats into Tuesday energized with the election spirit and ready to encourage others to elect Democratic candidates."
Brill said the rally will kick off a 24-hour period in which the College Democrats will be publicizing the election and campaigning for Democratic candidates on campus and throughout the county. She said the College Democrats registered about 5,000 voters on campus this semester.
The latest polling suggests Democrats could fare well in Michigan on Tuesday, with both Obama and Stabenow leading their opponents. They're hoping that trickles down the ticket.
Henry said they're feeling so good about their chances that they'll be shuttling at least two — maybe three — carloads of party volunteers down to Ohio on election day.
"Michigan looks pretty good for Obama, but we've got a 'your neighbor's house is on fire' thing here," Henry said. "We're mostly worried about Ohio, Virginia, New Hampshire, Colorado, Wisconsin, and we're closest to Ohio, so we're like, 'Lets go help the neighbor.' "
Local Dems are planning to gather Tuesday night at Weber's Inn in Ann Arbor, while the Washtenaw County Republican Party plans to host its own party at the Ann Arbor Country Club.
Henry said he's confident Ann Arbor voters will turn out for Democrats on Tuesday, and he's hopeful Michigan on the whole will be a similar story.
"We've had a pretty solid organization here from the Michigan Democratic Party on down to the city party, so we're pretty confident about Michigan," he said. "And I'm certain Ann Arbor is going to deliver about 75 to 80 percent of its votes to the president."
Ryan J. Stanton covers government and politics for AnnArbor.com. Reach him at ryanstanton@annarbor.com or 734-623-2529. You also can follow him on Twitter or subscribe to AnnArbor.com's email newsletters.