Posted on
Wed, Jan 11, 2012 : 5:26 p.m.
Fire-damaged house on Pinecrest demolished
By Paula Gardner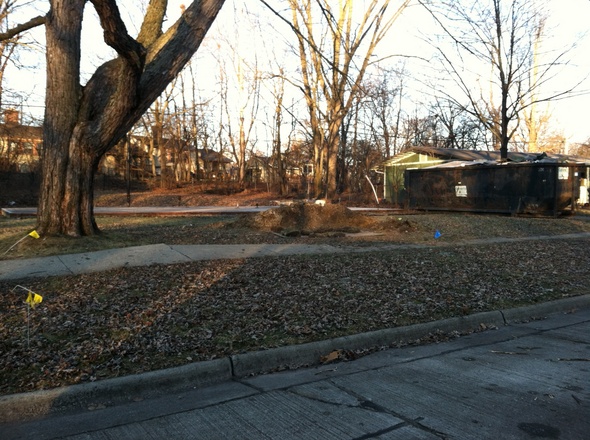 Paula Gardner | AnnArbor.com
Previous story: Neighborhood eyesore: A tale of red tape, miscommunication and hopefully redemption
It took three years, but the southeast Ann Arbor house destroyed by a fire in 2008 no longer rests on its foundation.
Demolition crews took down 2434 Pinecrest on Monday.
The house became a neighborhood eyesore as neighbors wondered why it would take years for something to happen there.
After the fire, the property was sold to Michael Coghlan, who attempted to demolish the house - but various issues with the city prevented any action.
As Coghlan set up a meeting with city officials right after Thanksgiving Day, both he and building officials learned that different departments in the city had records that weren't up to date on ownership, resulting in communication missteps.
"My contractor and demolition guy have been engaged for 14 months," Coghlan said for a story published on Dec. 12. "They've been to the city five times with paperwork.
"Every single time there's a roadblock."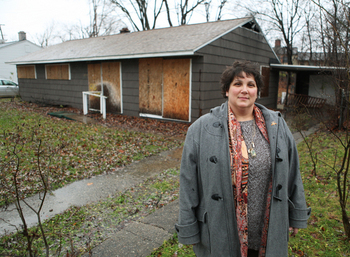 But Coghlan and city officials worked through the remaining issues - the last being an unpaid water bill from before he bought the house - and he was cleared to go ahead and demolish it.
The permit was issued on Jan. 4, and by Monday, and Dumpster and crews from Bronni's Roofing converged on the property.
Coghlan didn't return a call seeking comment on what's next for the lot and remaining cement slab.
Earlier, he said he expects to rebuild a single family home, or even just sell it as an improved lot.