Posted on
Fri, Feb 15, 2013 : 3:59 p.m.
Fire destroys three-stall garage in Ann Arbor community
By Kody Klein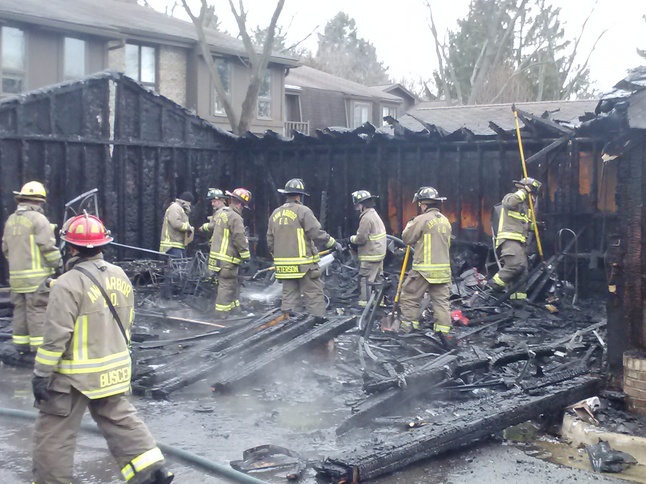 Kody Klein | AnnArbor.com
Not much remained of the three-stall garage that caught fire Friday afternoon at Earhart Village, 835 Greenhills Drive in Ann Arbor.
"It was burning through the roof," said Kevin Cook, battalion chief for Ann Arbor Fire Department.
Cook said six trucks were called to the scene at 2:28 p.m. Upon arrival, firefighters successfully contained the fire, keeping it from spreading to nearby residential units or other garage spaces.
"We got it contained pretty fast," he said.
No one was injured and there were no vehicles in the garage when it caught fire. Among the remains that laid between charred rafters were bicycles and patio furniture.
Cook said it was too soon to say what caused the fire or what the cost of damages will be.
Representatives for Marcus Management, who manage the property, were unable to be reached for comment.
Kody Klein is an intern for AnnArbor.com. Reach him at kklein@mlive.com