Firefighters battle Superior Township mobile home blaze
Posted on Tue, Oct 23, 2012 : 5:26 p.m.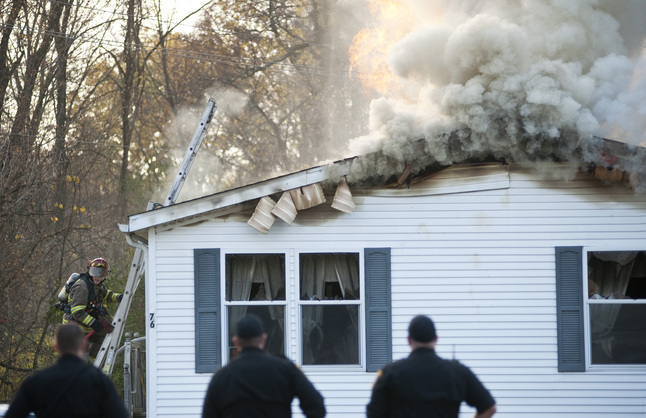 Daniel Brenner I AnnArbor.com
(This story has been updated with reports from the scene.)
Multiple fire departments responded to a mobile home fire shortly after 5 p.m. Tuesday in Superior Township.
The home in the Westridge Mobile Home Park was reported to be fully engulfed as the Superior Township Fire Department responded to the scene.
They were joined by firefighters from Ann Arbor and Ypsilanti townships, as well as deputies from the Washtenaw County Sheriff's Office and Huron Valley Ambulance.
One person - an older man - is being treated at the scene for injuries. He's believed to be the resident of the home, which neighbors said was occupied by a couple and their dog.
The man's wife arrived as medics were tending to him, and he appeared awake and alert as she held his hand. However, medics had to attend to another woman, described by neighbors as a family member, who collapsed near the pair.
Meanwhile, neighboring homes didn't appear damaged by the blaze, which was extinguished by about 5:45 p.m.
The mobile home park is located off of Ridge Road, north of Michigan Avenue.