Posted on
Fri, Dec 28, 2012 : 5:28 p.m.
Fired assistant state attorney general Andrew Shirvell to keep unemployment benefits
By Amy Biolchini
Andrew Shirvell, the assistant state attorney general fired after attacking a gay student body president at the University of Michigan through blog posts in 2010, will keep his unemployment benefits after a judge refused to reconsider her ruling, the Detroit Free Press reported.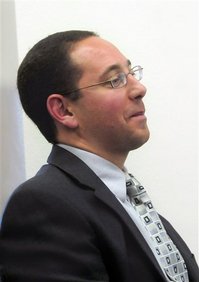 Marissa McClain | The Michigan Daily
Ingham County Judge Paula Manderfield rejected a motion Dec. 19 from the Michigan Attorney General's Office and the state's Unemployment Insurance Agency asking her to reconsider her October decision that Shirvell, 32, was entitled to his benefits, according to the report.
The state fired Shirvell in 2010 after Shirvell's blog posts targeting U-M's first openly gay student body president, Chris Armstrong, were the subject of national attention.
Shirvell owes $4.5 million in Armstrong's federal defamation lawsuit as a result of an August jury ruling.
Shirvell, who declined to release details of his unemployment compensation to the Detroit Free Press, stated he believes he's entitled to the benefits because he was not fired for misconduct, but for expressing his political and religious thoughts on his personal time and resources, according to the story.
Amy Biolchini covers Washtenaw County, health and environmental issues for AnnArbor.com. Reach her at (734) 623-2552, amybiolchini@annarbor.com or on Twitter.