Posted on
Fri, May 31, 2013 : 10:12 a.m.
Firefighter and homeowner injured after lightning strike causes Salem Township house fire
By Kyle Feldscher
A Superior Township firefighter and a homeowner were taken to the hospital after a lightning strike set a home ablaze in Salem Township Thursday evening before restarting Friday morning, fire officials said.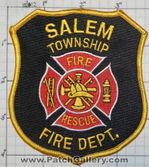 Courtesy of PatchGallery.com
Salem Township Fire Department Chief James Rachwal said firefighters went at 6 p.m. Thursday to the 8200 block of North Territorial Road after the homeowner returned to his house and found the residence burning. Rachwal said the home was smoldering and on fire when the man called.
The man was injured while trying to get his dog out of the home and tried to put the fire out with a garden hose, Rachwal said.
Rachwal pointed to the high temperatures from the flames and the heat of the afternoon as causes for concern for firefighters who worked the blaze.He wasn't sure about the nature of the Superior Township firefighter's injury.
"It was a big enough issue that he had to be transported (to a hospital)," Rachwal said.
Rachwal said firefighters from Salem Township, Lyon Township and Superior Township fought the blaze Thursday evening while Northfield Township provided coverage for Salem Township for other calls.
Firefighters believe the fire began after a lightning strike during the line of storms that rolled through Thursday. The home had a double ceiling and it was difficult to get to the point of origin of the fire, Rachwal said. The home suffered extensive damage.
"It was pretty tough. We had to do a lot of making access through the ceiling and cutting through the roof to get to the seat of the fire," he said.
The difficulty in getting to the seat of the fire led to the blaze restarting Friday morning, Rachwal said. As of 9 a.m. Friday, firefighters were still on scene fighting the fire and Rachwal said the flames were contained.
Rachwal said the homeowner was released from St. Joseph Mercy Hospital on Friday morning. There was no update on the condition of the Superior Township firefighter immediately available Friday.
The three residents of the home were assisted with food and clothing after the blaze, according to a statement from the American Red Cross.
Rachwal said the investigation into the fire continues and a full damage estimate was not available Friday morning. He thanked the supporting fire departments and Huron Valley Ambulance for their assistance, along with the Washtenaw County Sheriff's Office.
"We wouldn't be able to do half the stuff we're able to do without those guys," he said.
Kyle Feldscher covers cops and courts for AnnArbor.com. He can be reached at kylefeldscher@annarbor.com or you can follow him on Twitter.